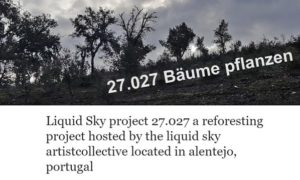 Liquid Sky project 27027
a reforesting project hosted by the liquid sky artistcollective
located in alentejo, portugal
During the next 10 year up until the year 2030, the total planned number of 27027 individual trees will be planted in & around Monte de Salvada, Municipality Santana da Serra, Beja, Portugal.
The location consists of a picturesque rolling hill land situated a short distance from the equally beautiful Santa Clara lake, approximately 230 kilometers south of Lisbon.
The selected tree types are from 3 specific categories:
– Traditional robust trees which are even able to survive light bushfires,
– Trees which grow fruits that feed and nourish both humans and animals,
– Fast growing trees with voluminous leafage to create shelters for the indigenous wildlife
For us it doesn t make sense to go for catchy numbers like "a million" or so as the trees need weekly care and we are a small artist-family so time, labour force and money is limited.
But – of course – "27.027" is a DaDa-art-number and we might end up planting more.
Nowadays it should be perfectly clear & beyond need for further discussion why we all need more trees. After moving the Liquid Sky Berlin headquarters to southwest Portugal onto a location with a huge plot of land, it is simply a logical consequence of our overall aims and intentions to "terraform" this area into a sustainable green oasis filled with plant & wildlife.
Deeds instead of words, today instead of tomorrow.

Beside our own hands on at every level labor, and a focused and sustained intent and energy to achieve our stated goals, we will need to hire exerienced and professional agricultural workers to take care of this project, employed on a half weekly basis. When the actual Liquid Sky Portugal area is reforested, these activities will be further expanded to facilitate the same program of reforestation on the hills and in the valleys of the surrounding areas.
In the moment we seed or plant between 3 and 20 trees per day.
***