Diese Veranstaltung hat bereits stattgefunden.
Solar Sounds – curated by Urban Arts Berlin
Veranstaltung Navigation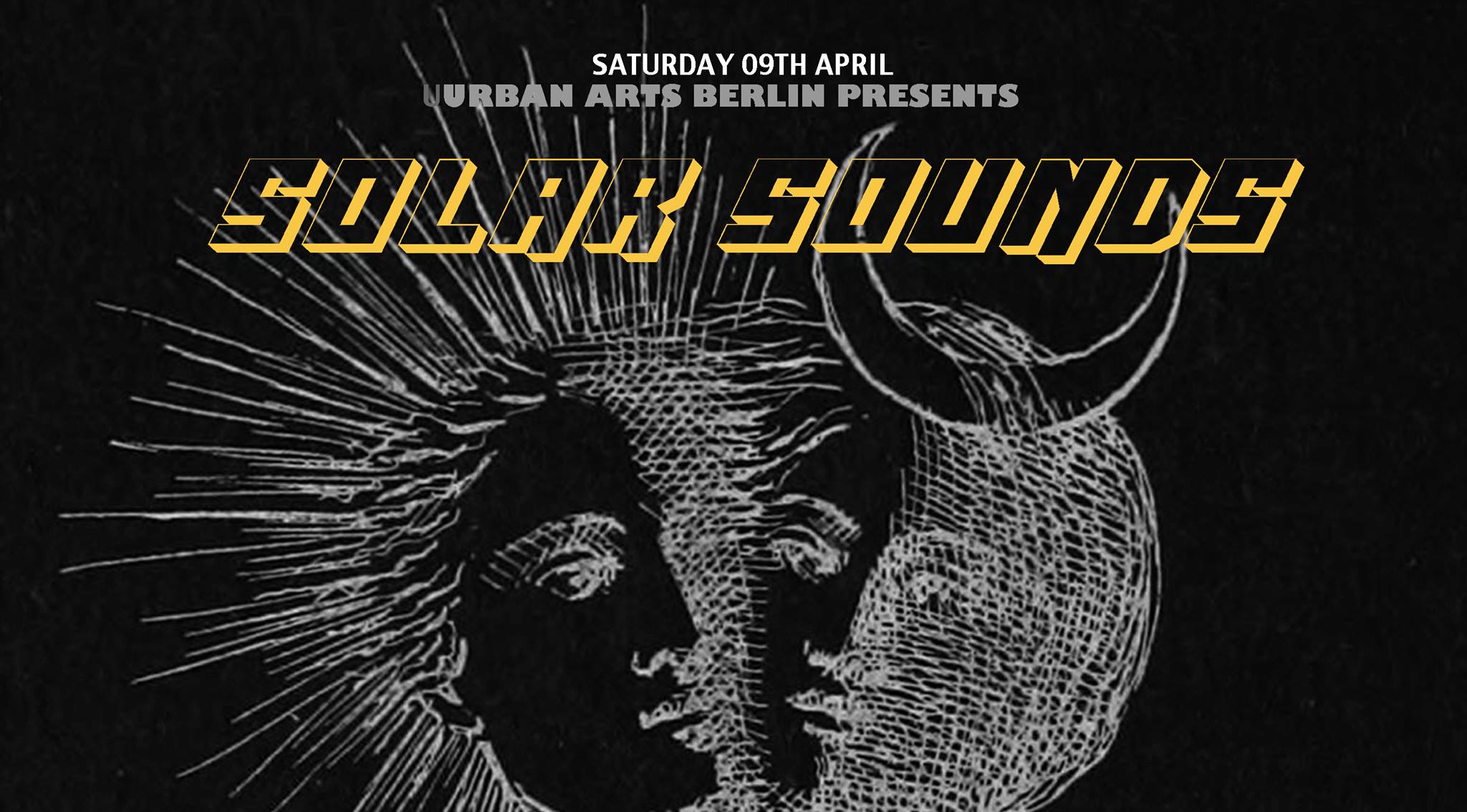 Urban Arts Berlin proudly presents:

A night of Shadows and Light that welcome our father Sun after a long Winter.
LIVE @ MAIN STAGE:
TRIPLE SUN – (BRATISLAVA)
Triple Sun is an electronic duo based on an empirical approach to music, sound design and visual imagination. Their multigenre explorations are unified by a cinematic mood full of drive, psychedelia and freedom. The sound of Triple Sun is characterized by organic synthesizer sounds layered in orchestral fashion and minimalist vocals delivering spartan yet ironic lyrics.
Triple Sun's first release is EP Ritualogy, independently self-released in january 2013. Ritualogy introduce the sound of band and taste in cross-genre experimentations: post-industrial, surrealism, jazz, electronica, rock, metal, neofolk. Each track is carefully polished and recorded in Triple Sun studio, mixed by the band itself.

GAD WHIP – (UK)
"Distribute liberally? Sounds expensive to me…" Of course just about everything is expensive these days…and with expense comes necessity; necessity, creativity; the creative urge – a newish band of mutatos from England: some knuckles-down (and knives out) DIY bleats from Gad Whip, their third cassette release, this time finding these lads earnestly arching a worm's trail through their sundry influences.
The group seems to be cracking open the notion of 'post-punk' (and what comes after; or perhaps they found an old bureau with a piece of tape on it illegibly labeled "Post-Punk", and they are prying it apart to see what is contained within)…this writer hears traces of (by turns) Rema-Rema, Killing Joke, Personnel and disparate (negligible) shards of the VHF Records roster…
"Somewhere in England comes this band. Pleasant eclectic and cant post-punk rigmarole on this tape with surreal spoken word vocals. Something like when The Fall or Sleaford Mods were lost in their own music collection."
ONTERVJABBIT – (SLOVENIA)
One of the most prolific noise projects in Slovenia, working both in underground clubs and bigger venues. Had shows throughout Slovenia, Austria and Italy. In the past they've opened for the likes as Oneohtrix Point Never, Ben Frost, Rashad Becker and Zbigniew Karkowski to mention some of the most prominent names. Open for collaboration with different noise/experimental artists and promoting the noise culture and spirit wherever is possible.
Ontervjabbit's protagonists are longtime friends Domen Učakar and Neven M. Agalma. Among many projects they are involved with, they actively work under their solo experimental electronica projects, namely Lifecutter and Dodecahedragraph.
Neven is also known for his organization of the noise festival (Zasavje Noisefest International), located in Trbovlje, SI.
Zasavje Noisefest International
Zasavje Noisefest Facebook
Links:
http://ontervjabbit.bandcamp.com/
https://www.facebook.com/ontervjabbit
https://soundcloud.com/ontervjabbit
http://www.youtube.com/user/ONTERVJABBIT
MUNSHA – (ITALY)
Munsha is the alias of Daniela Lunelli. I'm an Italian singer, cellist, sound designer and performer based in Berlin.
I began studying piano at the age of eight. Later I began to study singing and cello then at the Conservatory of Music of Salerno, matching the academic course of study taking part in several rock and dark-punk bands.
"Over time, my interest focuses on contemporary music and the avant-garde of '900 and on voice research. After graduating in singing with M° Daniela Del Monaco, I attended workshops and continued education courses at the International Academy of Music in Milan and the Conservatory of Padua."
The double background, academic and as musician on stage, has created a style in which the rhythmic grit of rock music nestles and coexists in unconventional harmonic structures; concrete sounds merge into darkwave melodies; harmonic suspensions into electronics.
LIEBCHEN (GREECE)
An audio performance experience by Hawk Haven
The soul departs from the body, and genderless sings for passion and blood, in a non stop erotic industrial cabaret.
Music Produced by Zoe Zanias (Linea Aspera, Keluar), AbyssX, TRashy Cord & Hawk Haven.
DJ SEA PRIESTESS (BERLIN)
DJ set intelligence by sound artist Verónica Mota operating as Cubop & Espectra Negra in the independent music scene Berlin's.