Diese Veranstaltung hat bereits stattgefunden.
Afro Latin Brazil Dance Party @ Tropical Diaspora
Veranstaltung Navigation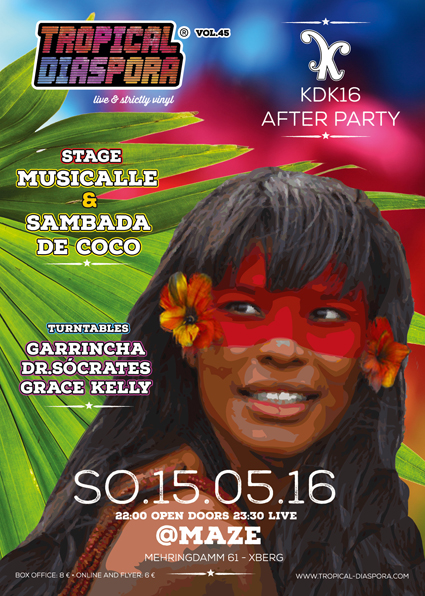 Tropical Diaspora® PROUDLY PRESENTS "Karneval der Kulturen" Edition
"AFRO LATIN BRAZIL DANCE PARTY" @ TROPICAL DIASPORA
LIVE ON THE STAGE:
RECORD RELEASE SHOW CASE  – MUSICALLE CHOLO ORCHESTRA
Different rhythms of Latin America are rediscovered, reinterpreted
redefined and refined.
SAMBADA DE COCO – Berlin
Coco is an African-influenced musical rhythm that originated in Northern Brazil.
DJ Sets
STRICTLY VINYL FLOOR
Dr.Sócrates (Vigo / Berlin)
GArRinchA (São Paulo / Berlin)
DIGITAL FLOOR
Grace Kelly (Salvador da Bahia / Berlin)