Diese Veranstaltung hat bereits stattgefunden.
OUT OF SPACE #2 – Konzert/Party
9. September 2016 @ 22:00
Veranstaltung Navigation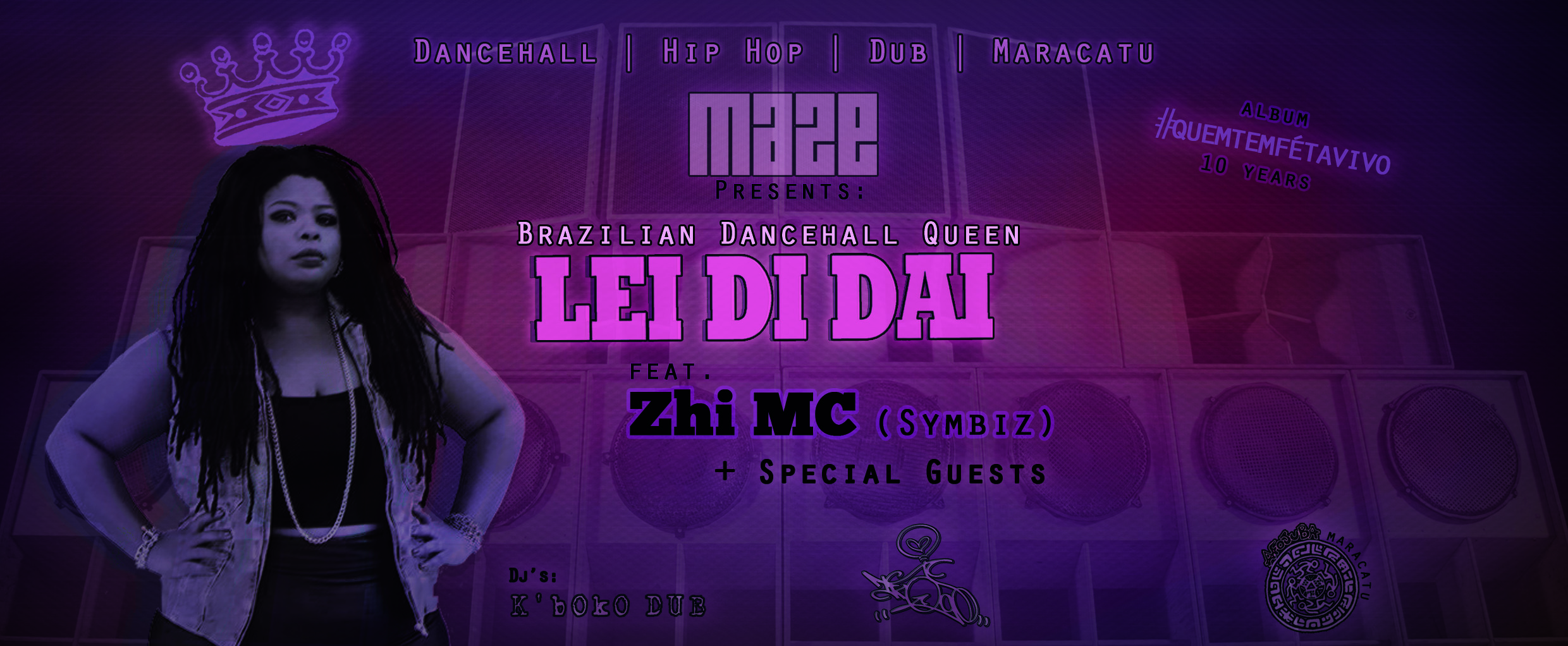 ◾ Lei Di Dai, "Queen of Brazilian Dancehall". Singer, composer and MC in "Gueto pro Gueto" Sound System.
As a spearhead for dancehall culture in São Paulo, Lei Di Dai has organized the parties Jameika, Catch Fire and Dancehall Raggamuffin in the suburbs of the 20 million megapolis. With her faithful partner DJ Vinnieman she makes up the "Gueto pro Gueto" Sound System events in São Paulo.
Celebrating her 10 years album Lei di Dai stops in Berlin for a last concert of her tour in Europe counting with the presence of Zhi MC (SYMBIZ) parteners of the new track recorded at the Red Bull Studio Berlin. The singer will be performing the new album #QUEMTEMFÉTÁVIVO of the project Amaphiko recorded at the Red Bull Station in São Paulo.
Lei di Dai [ https://soundcloud.com/leididai ]
MC Zhi [ https://soundcloud.com/zhimc ]
◾ Afojubá Berlin // MARACATU
Created in April 2006 by musician percussionist João Alencar, the Percussion Group AFOJUBÁ has brought innovation with its infectious blend of rhythms on percussion scene of Pernambuco, Brasil.
The maracatu, coco, afoxé, samba, drum n 'bass, parsley, caboclinho, afrobeat rhythms with influences of Brazilian Candomblé, are some of the sounds performed. It is with dedication, enthusiasm and joy with unique presentations because of improvisation, which arises according to the energy of the moment and the public, that the percussive group Afojubá contagious and enriches Berliner culture with its innovative sound presence.
◾ Dj K'boko // AFRIKANISMUS
The percussionist and producer K'boko aka Biano mixes Afro-Brazilian Music – brought by the crowded basements of slavery trade boats from Africa to Brazil – with Nyabinghi, Roots, Steppers, Ragga… Bass Music! And giving a DUB Dress to the traditional brazilian rythms like Ijeshá, Samba, Jongo, Coco…
[ https://soundcloud.com/kboko-dub ]
◾ Dj Tikogo // y〇kn∆ ® CrΣw 病気の…
Beat maker, Dj, Producer percussion and Hip hop drummer tikOgO, a true world citizen loves to share his passion for Brazilian percussions (with phenomenal virtuosity on the Pandeiro) and groove oriented music (Hip-Hop, Music from Brasil, Berlin, Africa, Cuba, Spain, London, NY, L.A. Japan, Berlin, India and Grooves with feelings.) Sick fusion Beatz to change the planet in the connection with the Universe… 宇宙 ♥
[ https://soundcloud.com/tikogo ]
// Support
◾ Maory Decoration // Riquinho Maory
◾ Photos with Philiot Philsen