Diese Veranstaltung hat bereits stattgefunden.
Merlin Dietrich & The Polymonsters
Veranstaltung Navigation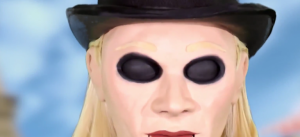 "WHAT I AM
I AM A MUSIC-POET.
Marc Bolan is my artistic father and Bob Dylan is my artistic grandfather.
I AM A QUEER ARTIST.
"Queer" is not only about being gay, but being gay is a large part of it– living life without any kind of censorship, from the outside or inside.
I AM A DANDY.
I adore drag queens but am not one myself. I would define my look as extreme dandyism.
I AM INTUITIVE.
A voice told me to make music, and I listened.
I AM A FAN OF GLAM ROCK.
I would define my current musical style as neo-glam punkrock-disco."
——————————————————————————————————————————–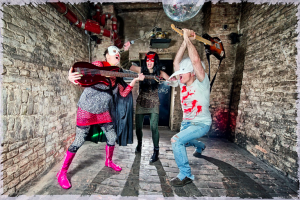 THE POLYMONSTERS
King Kong was fed up. All this puking, every stairway was a Mt. Everest, and with this big belly he couldn't even scratch his knee… Though he carried his little 4-headed baby for only 4 weeks, he decided to come to an end with his pregnancy:
King Kong gave birth to The Polymonsters!!!!
Unpredictively this great good-hearted hairy father birthed a winner: The newborn Polymonsters won the Eurotrashvision Contest 2010 @ Berlins King Kong Club! And started off their monster lifetime as an electronic rock band..
After one year they headed out to get to know human's world. What a trip!!
Some monsters got lost, some returned more adult with some newly found creatures. Time to kick off again: Get yourself some Monster time!! Release the good beast!!! ROOOOAAARRRRR!!!!