Diese Veranstaltung hat bereits stattgefunden.
maze presents …
Veranstaltung Navigation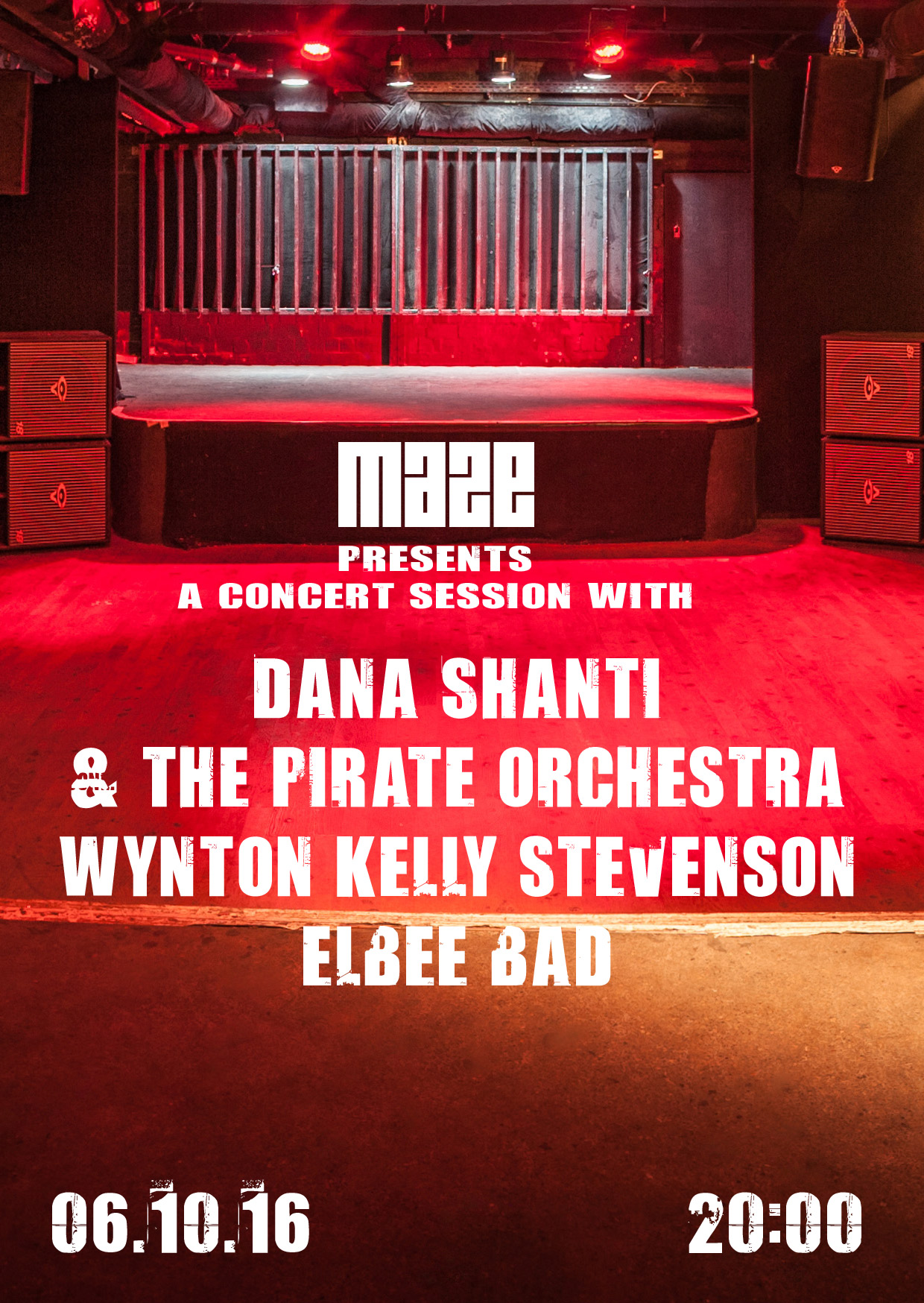 a concert session with fabulous artists und personalities …
Dana Shanti & the Pirate Orchestra
Shanti Pirate is a singer and songwriter living in Berlin/Universe
She is a peaceful pirate, a kitchen philosopher, and a lover of silence.
her music is simple, honest and touching,
timeless.
Wynton Kelly Sevenson
One man band: Harmonica, Beat Box, Loopstation
Prolific producer, with his own "Griffe" you'd recognize Wynton Harmonica's style in a crowd of harmonica players. He refined his sound in 2008 by bringing this old instrument to the contemporary music world. One man band, carrying his battery powered tools in a bag, being able to plug in and play anywhere. Completely extravert, ready to have fun he throws a party to the crowd.
Beatbox, harmonica, loopstation, effects and machines of all kind, Wynton is a freak. A skilled entertainer.
He has rocked the stage with Jazz cats like Rudy Stevenson and band, famous American tap dancer Savion Glover as well as with artists from the Electro and Hip Hop scene such as Sido, K the I???, Infinite Livez, Mc Bad Kat, LMNZ, Lady Daisey and Batsauce and Dj Giotto (Braintheft), among others.
In the past 2 years, Wynton has performed over 200 times. In many venues, like Yorckschlossen in Berlin,
Blue Note in Dresden, Tacheles and Ritterbutzke in Berlin. He has also perfomed at festivals such as Fusion in Germany and Hip Hop Kamp in Czech Republic. He also played on Sido: MTV Unplugged 2010.
With 2 albums ready to be released and a continuous presence in the clubs and willing to extend his art to other frontiers, you gonna hear more about this crazy American genius. Son of Rudy Stevenson and named after the great pianist Wynton Kelly, it can't be just a coincidence…
Elbee Bad
Starting as a musician over 20 years ago, LB was playing percussion. By his early teens, he´d become adept with the Bass and Lead guitars, and highly skilled as a drummer and percussionist (which is evident in his productions today). The Prince grew up in a time when music was alived and filled with talent and showmanship. That was instilled in him, and is one of his strongest points today. As a Dj and Mc he´d dazzled crowds around the world mixing and remixing live on his new instruments: the turntables, mixer and microphone. Bad´s talent allows him to switch positions from mic to turntables (spinning on 3) to rapping and singing !
BAD (the perfect word used for a positive discriptional his style of mixing) kept crowds and his following by playing new, different and unfamiliar sounds. The Prince of Dance is a musical trendsetter, yet still manages to uphold the honor of being a crowd pleaser.
Bad had studied radio and television broadcasting at Announcer Training School (ATS) in NYC. He`s worked background at one of the New York´s most prominent radio station "WBLS" as an on location broadcaster.
At an other station in NY, "WGLI" Home Of The Oldies "Uncle Monty" had his first full time on air position, playing songs from the 50´s and 60´s as well as having his own weekend show called "Hip Hops Alive And Well… and growing on Long Island" where Bad concentrated on local youth and local music makers.
When Ellbee moved to europe, he entertained Berliners for 4 years with his music mix and entertainment show "Wow What´s That!" which ran live 5 hours, two nights per week on kiss FM Berlin.
His massage was (and still is) music, love and laughter!!!