Diese Veranstaltung hat bereits stattgefunden.
Afojubá – 3 Years Anniversary Party
Veranstaltung Navigation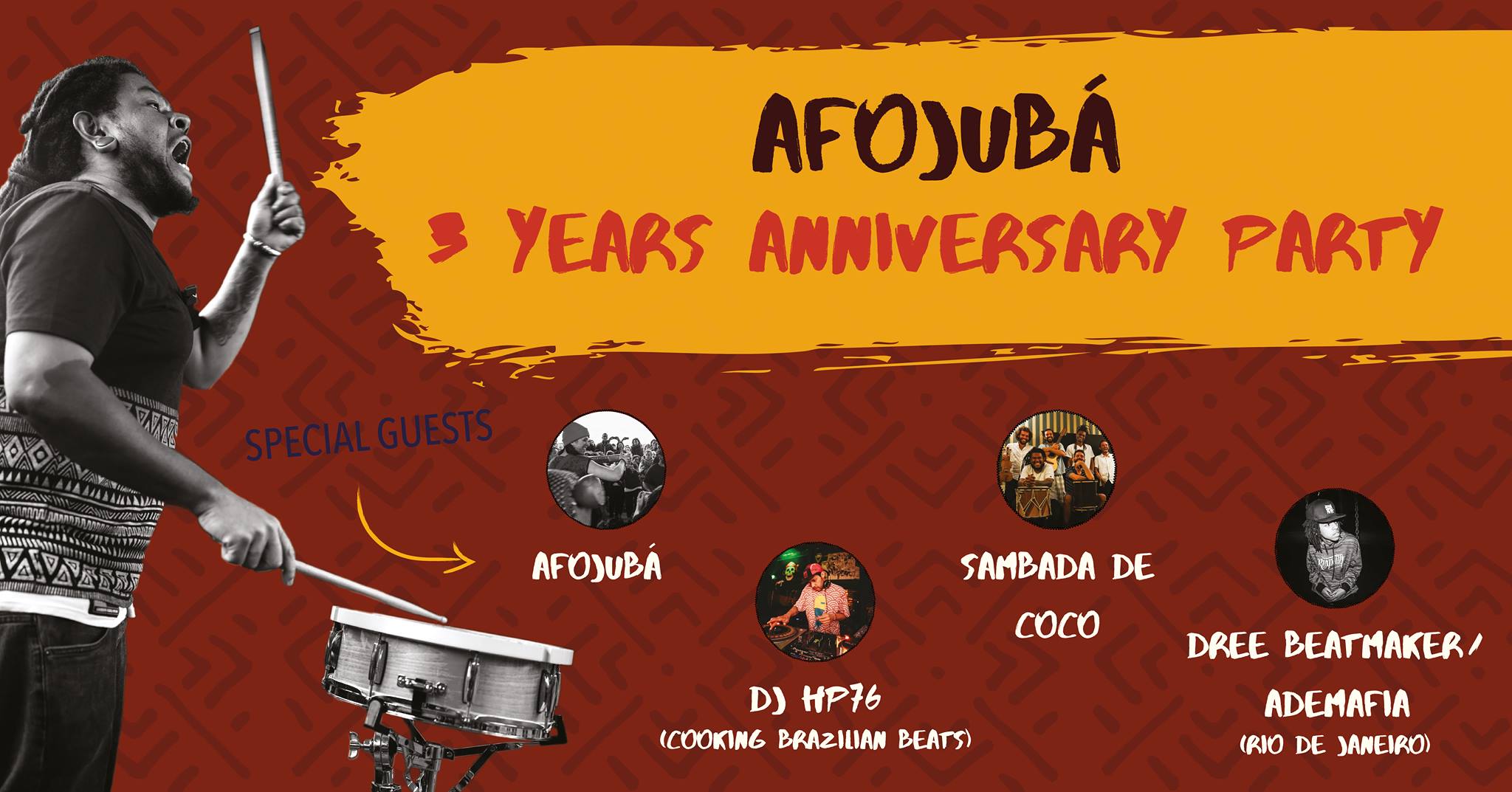 English version below / Portugues embaixo
Afojubá-Berlin wird drei Jahre alt!!!!
João feiert mit seiner Maracatu-Gruppe und all seinen Freunden!
Am 07.10. ab 22 Uhr im Maze!
Und die Geschenke kommen diesmal von uns… wir haben 2 tolle Live-acts und 2 Dj´s im Gepäck!
Mit der Band Sambada de Coco werden die Hüften gelockert und dann geht es energiegeladen mit Afojubá-Berlin weiter.
Im Anschluss werden DJ HP76 und DJ Dree Beatmaker für ordentlich Stimmung sorgen.
Also kommt vorbei und feiert mit!!!!!
João de Alencar, Perkussionist aus Recife, Brasilien spielt und arbeitet seit seiner Jugend mit unterschiedlichen Musikern und spezialisierte sich vor allem auf die traditionelle Musik aus dem Nord-Osten Brasiliens. 2006 gründete er die Maracatu-Gruppe Afojubá. Mit seinem Umzug nach Deutschland brachte er sein musikalisches Wissen und Know-how nach Berlin und gründete 2014 Afojubá-Berlin.
Einlass: 22 Uhr
Beginn: 23 Uhr
————————–————————–————————–——
Afojubá-Berlin is turning 3 years old!!!
Joao will be celebrating alongside his maracatu group and friends on October 10th at 10pm at Maze Club!
And this time, he'll bring the presents! We have prepared two great live acts and 2 DJs for you, it will be a night you won't want to miss! The party will begin and heat up the dancefloor with Sambada de Coco and then the one and only Afojubá Berlin will take over and take off! Right after we have the pleasure to present to you the two super talented DJs DJ HP76 and DJ Dree Beatmaker!
So come along and celebrate with us!
João de Alencar is a percussionist from Recife, Brasil. Since his adolescent years he plays and works with different musicians and specializes in the field of traditional music from the North-East of Brasil. 2006 he founded the maracatu group Afojubá. His relocation to Germany allowed him to bring his vast musical knowledge to Berlin, where he founded Afojubá-Berlin in 2014.
Doors open: 10pm
Show starts: 11pm
————————–————————–————————–———-
Afojuba-Berlin faz 3 anos de vida!!!
João festejará com o seu grupo de Maractú e todos os seus amigos.
No dia 7 de Outubro às 22 horas no Maze.
Como presente teremos dois espectaculares concertos e dois Djs, só para vós na mesma noite.
Com a Banda Sambada de coco a dança está garantida, seguindo-se depois uma injecção de energia com o Grupo Afojuba-Berlin!
Aparece e vem festejar connosco!
João de Alencar, percussionista do Recife, brasileiro, toca e trabalha desde a sua juventude com diferentes músicos especializando-se em Música tradicional do Nordeste Brasileiro. Em 2006 fundou o Grupo Afojubá. Após se mudar para a Alemanha ele trouxe consigo todos os seus conhecimentos e experiências musicais fundando o grupo Afojubá-Berlin.
portas abertas: 22hs
show: 23hs