Diese Veranstaltung hat bereits stattgefunden.
ALL NIGHT LONG – zampi & twin peetz & moolsaasa & hyperscale
Veranstaltung Navigation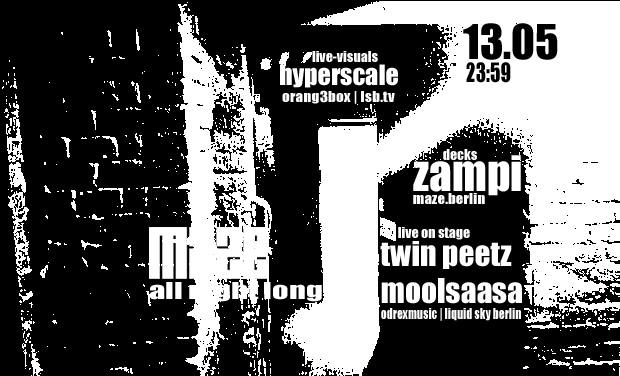 #techno #ambient #dance #house #vinyl #synth #audiovisual #live #performance #nonstop #experimental #art #braindance #triphop #electronica #dub #detroit #noise united in one event …
finest rare vinyl house and techno music combined with analog & digital sythesizer experimental ambient sounds and live visuals
—> all night long
decks:
Zampi ||| maze.berlin
https://www.mixcloud.com/zampi/
https://www.discogs.com/de/artist/4062221-Zampi
Vinyl player and analog producer born in Berlin. The long way of Music is in his life too. Began end of the 80th with Disco/HiNRG over Electronic Body Music straight to the electronic Genre House/Techno/DnB/Breakbeat and back, ah there was stil the Acidhouse before. He play in different Clubs/Party`s and Openair`s over the years. Then thats the thing, most of her Vinyls are for quality Soundsystems to put the party in the right direction. On the other side the Producer thing. He work most analog with a computer touch.
Mixes only with Vinyl!
Please Support the Producer/Label
and go to your favorite Recordstore !
on stage:
Patrick Peetz ||| liquid sky berlin / lsb.TV / odrexmusic
https://www.mixcloud.com/patrickpeetz/
http://www.discogs.com/artist/203044-Twin-Peetz
have been in electronic music since 1992 known mainly as the Montreal ambient pioneer. dj, live act, producer. musical spectrum : chill out / ambient, dub techno, electronica, detroit techno, techno, house, trip hop, noise, ambient dub 😉
&
moolsaasa ||| liquid sky berlin / lsb.TV / odrexmusic
https://soundcloud.com/moolsaasa
https://www.discogs.com/de/artist/1135674-Moolsaasa
live-visuals:
HyperScale ||| orang3box / liquid sky berlin / lsb.TV
HyperScale makes visuals at partys and art events. As a solo artist HyperScale show his visuals live to the performer of the event or he is playing improvised sessions with other visual artists. He creates his own footage and mixed old movies with hs own visuals software named Orang3Box to music- and artshows.
Based in Berlin he shows his unique style at music and art events at the LiquidSkyBerlin Family and at the experimental TV show lsb_TV on Alex TV.