Diese Veranstaltung hat bereits stattgefunden.
berlin latin america label night
Veranstaltung Navigation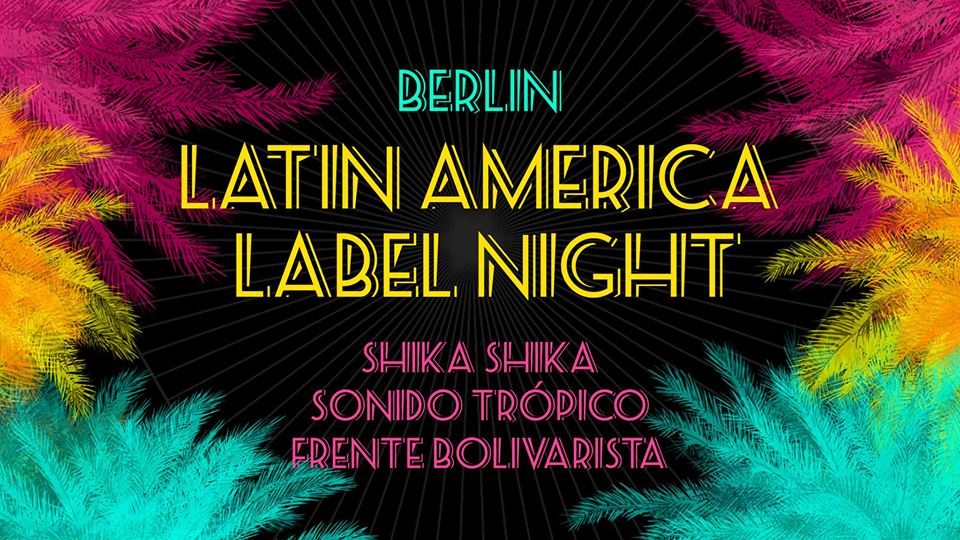 A musical revolution is sweeping the world.
A new generation giving birth to organic, highly danceable, cultural-infused music.
Shika Shika, Sonido Trópico & Frente Bolivarista have come together in Berlin to showcase the undeniably groundbreaking work that is being created by so many Latin American DJs and Producers.
These three labels are the meeting palce for music inspired by refreshing regional tendencies & vibrant tropical influences, skilfully transfused with the urban danceability of european beats.
▀▀▀▀▀▀▀▀▀▀▀▀▀▀▀▀▀▀▀▀▀
Eine musikalische Revolution streift um die Welt.
Eine neue Generation bringt organische, ultra-tanzbare und kulturell angehauchte Musik ans Licht der Welt.
Shika Shika, Sonido Trópico und Frente Bolivarista haben sich auf Berlinerischem Boden zusammengetroffen um ihre in Lateinamerika entstandenen Meisterwerke in einem Showcase zu präsentieren.
Diese 3 Labels definieren sich über Musik, die regionale Tendenzen und tropikalische Einflüsse im harmonischem Zusammenspiel mit urbanen europäisch-elektronischen Beats und einer satten Bassline kombiniert.
▀▀▀▀▀▀▀▀▀▀▀▀▀▀ LINE UP
▀▀▀▀▀▀▀▀▀▀▀▀▀▀
》》BARRIO LINDO & BARDA
Shika Shika // Frente Bolivarista // Fertil
www.soundcloud.com/barriolindo
www.soundcloud.com/enlabarda
》》PIGMALIÃO // Frente Bolivarista
www.soundcloud.com/piglion
》》KRAUT // Shika Shika
www.soundcloud.com/krautmusica
》》GRIFFIN CRAFTS // Shika Shika
www.soundcloud.com/griffincrafts
》》SALVADOR ARAGUAYA // Sonido Trópico
www.soundcloud.com/salvadoraraguaya
》》ELPECHE // Sonido Trópico
www.soundcloud.com/elpeche
》》MERAKI // Sonido Trópico
www.soundcloud.com/meraki4
》》CERVERITA // Sonido Trópico
www.soundcloud.com/cerverita