Diese Veranstaltung hat bereits stattgefunden.
berlin techno night
Veranstaltung Navigation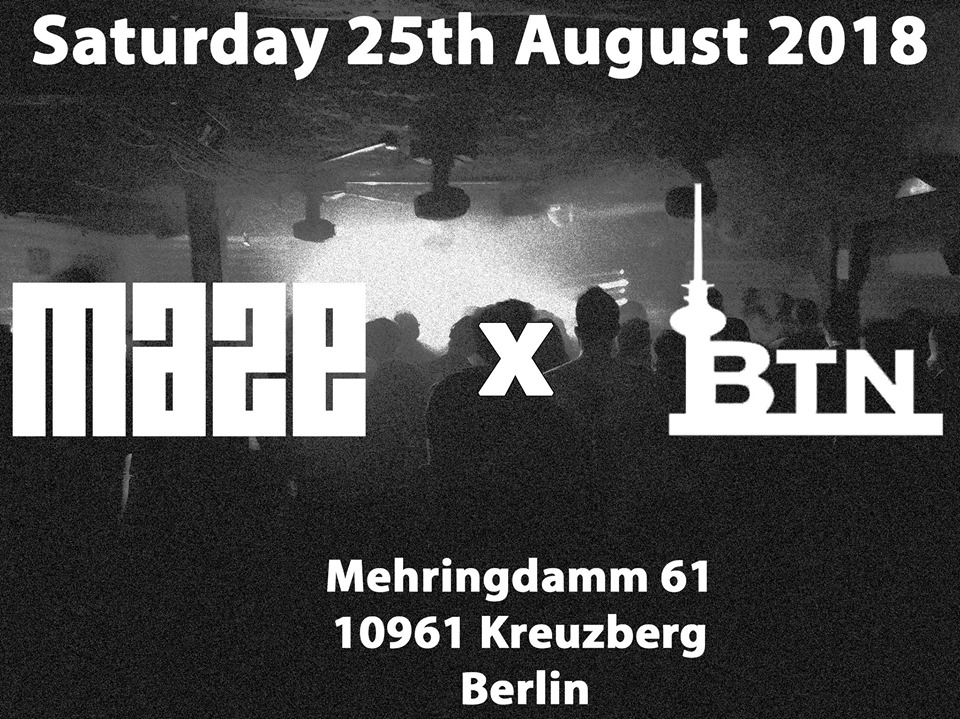 Attention , une partie de la team Berlin Techno Night – BTN envahie Berlin pour une soirée spéciale !
Warning !! Part of the Berlin Techno Night – BTN arrives in Berlin for a special evening!
Hzerty LIVE
Techno
Dj hertz aka hzerty live since the end of nineties in the best techno clubs in paris,it made it's name of the world off free partys.At the end off 90 it's passes off the french techno scène GIBUS ,REX CLUB,palace,péniche concorde etc…; it will make use to meet and work with dimensions of the great names of the french scène techno .2009 creation of his SCHOOL DJING & MAO .
*******************************************************
Walt Wellen Walt Wellen
Techno – Darktechno/ Industrial
Of Franco-German origin, Walt Wellen discovered techno in the early 90's, thanks to radios like : Maxximum and M40. Passionate of radio, he becomes animator in 1993. That passion will not leave it anymore.
He began to mix on turntables in 1999. He started as a DJ for a couple of years in Brittany. Since then, he has made numerous parties everywhere in France, with among other : Tetuna, Krimshok, Jean-Marie K , Woody MC Bride, Jeff23 (Sp23),Sergueï (Eat Your Bones), Pano (Teknomad), Loscar (3Faze), Troubles Fêtes and so much more. In July 2017, he mixed at the third edition of the "zug der Liebe" in Berlin, descendant of the Love parade
His passion for electronic music is no longer to be demonstrated, it is still today really attached to 90's oldschool music. He always actively searches acid, techno, rave sounds, making people dance on the dancefloor, in order to make each of them travels.
With his experience, he now offers pushing techno and dark techno's sets inflamed, between brutal and mental Acid sound.
*******************************************************
Beat42 Beat42
Techno / Industrial
Beat42 started as a hardcore music producer. In love with violent but nostalgic music of old hardcore, Beat42 turns to Industrial Techno which he finds closer to the hardcore of 10 years ago.
Today signed on Roxxx, Industrial Techno United and recently on Basses Besognes, Beat42 will make you walk between Techno, Industrial, Hardcore, Acid with a touch of mental.
*******************************************************
Dj Iri( Karmasound )
Techno An Amateur of electronic music for several years, Iri decided to set up the turntables six years ago, creating with his friends the collective KarmaSound. He has since always kept the same spirit make you dance on selections all as sharp as the others .
*******************************************************
Olffmann ( Palace Rec..)
Olffmann is a DJ / producer of the scene of Bordeaux. He doesn't stop being a surprise by his numerous dates through France. Paris, Toulouse, Bordeaux and several festivals have already vibrated on his sets sharing the line-up with artists as Teenage Mutants [Stil Vor Talent], Loco&Jam [Suara], Dustin Zahn [Drumcode] and Felix Krocher [Form Music].
In his productions as on stage, he impose his ambient and dynamic style oscillating between Deep and Techno and he becomes resident of the Redgate underground club of Bordeaux by his succes.
Olffmann is also the founder of the label Palace Rec. with the artists FELIN and JOVEM. Since its creation several artists signed on the label, as the Colombian Radeon, Parisian Sylk Poletti, the Serbian Milos Pesovic.
*******************************************************
Elena Mechta
Elena Mechta / AMDJS
Having up to 20 gigs per month Elena is one of Paris' hard working djs for sure. Elena is the founder of infamous AMDJS Radio Show that's broadcasted on 50+ radiostations over 14 countries. Promos, premieres, deep house and tech house cuts, disco bangers and balearic gems, rare slow-mo and mellow records: it's all here. The podcast version gets the attention from 60+ countries around the globe.