berlin techno night
Veranstaltung Navigation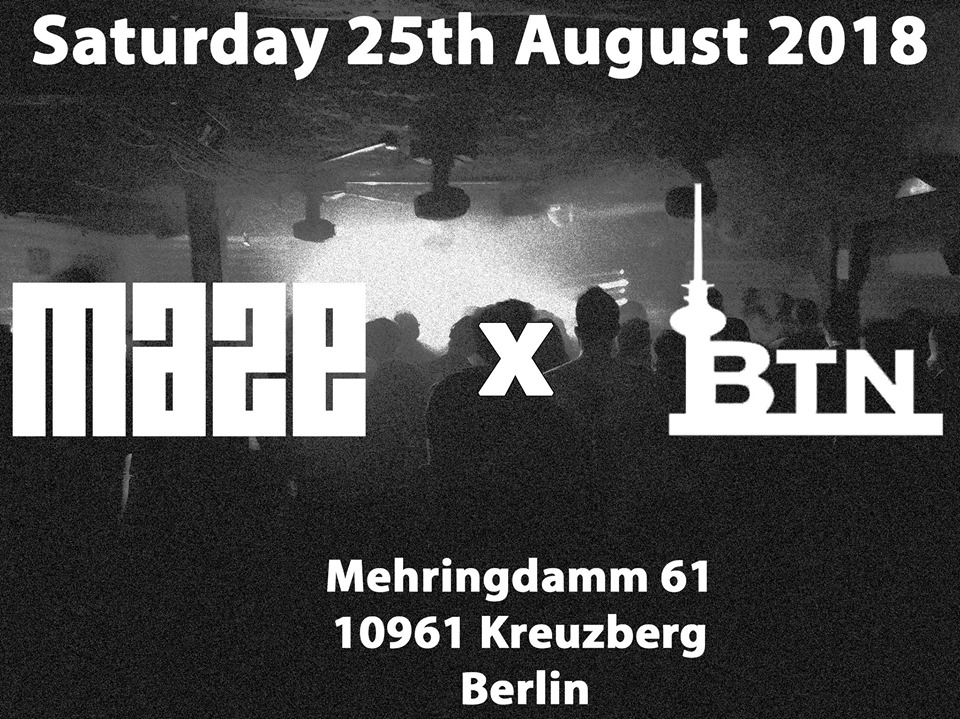 Attention , une partie de la team Berlin Techno Night – BTN envahie Berlin pour une soirée spéciale !
Warning !! Part of the Berlin Techno Night – BTN arrives in Berlin for a special evening!
Dj Hertz Hzerty LIVE
Techno
Dj hertz aka hzerty live since the end of nineties in the best techno clubs in paris,it made it's name of the world off free partys.At the end off 90 it's passes off the french techno scène GIBUS ,REX CLUB,palace,péniche concorde etc…; it will make use to meet and work with dimensions of the great names of the french scène techno .2009 creation of his SCHOOL DJING & MAO .
*******************************************************
Walt Wellen Walt Wellen
Techno – Darktechno/ Industrial
Of Franco-German origin, Walt Wellen discovered techno in the early 90's, thanks to radios like : Maxximum and M40. Passionate of radio, he becomes animator in 1993. That passion will not leave it anymore.
He began to mix on turntables in 1999. He started as a DJ for a couple of years in Brittany. Since then, he has made numerous parties everywhere in France, with among other : Tetuna, Krimshok, Jean-Marie K , Woody MC Bride, Jeff23 (Sp23),Sergueï (Eat Your Bones), Pano (Teknomad), Loscar (3Faze), Troubles Fêtes and so much more. In July 2017, he mixed at the third edition of the "zug der Liebe" in Berlin, descendant of the Love parade
His passion for electronic music is no longer to be demonstrated, it is still today really attached to 90's oldschool music. He always actively searches acid, techno, rave sounds, making people dance on the dancefloor, in order to make each of them travels.
With his experience, he now offers pushing techno and dark techno's sets inflamed, between brutal and mental Acid sound.
*******************************************************
Beat42 Beat42
Techno / Industrial
Beat42 started as a hardcore music producer. In love with violent but nostalgic music of old hardcore, Beat42 turns to Industrial Techno which he finds closer to the hardcore of 10 years ago.
Today signed on Roxxx, Industrial Techno United and recently on Basses Besognes, Beat42 will make you walk between Techno, Industrial, Hardcore, Acid with a touch of mental.
*******************************************************
Elena MECHTA
*******************************************************
MISTER X Arnaud Mister X
45-year-old DJ, who began with various generalist clubs in Lyon in the 90s,
before landing as a resident at l'Actuel d'albertville (Hexagona / Futuria) in Savoy under the name of Mister X ..
In 1998 towards the south of France and creation of the association Plexus solair, in 2000 return to Lyon where
he will perform in all techno clubs in the region and most of the underground techno nights with his friend Max the brat
Signed on a Swiss production house he will perform in Europe.
After 7 years of absence, return to business, in this style of its own,
mixing Tekhouse / Techno / Progressive / Minimal on jumping and bouncy sounds!