citizen
Veranstaltung Navigation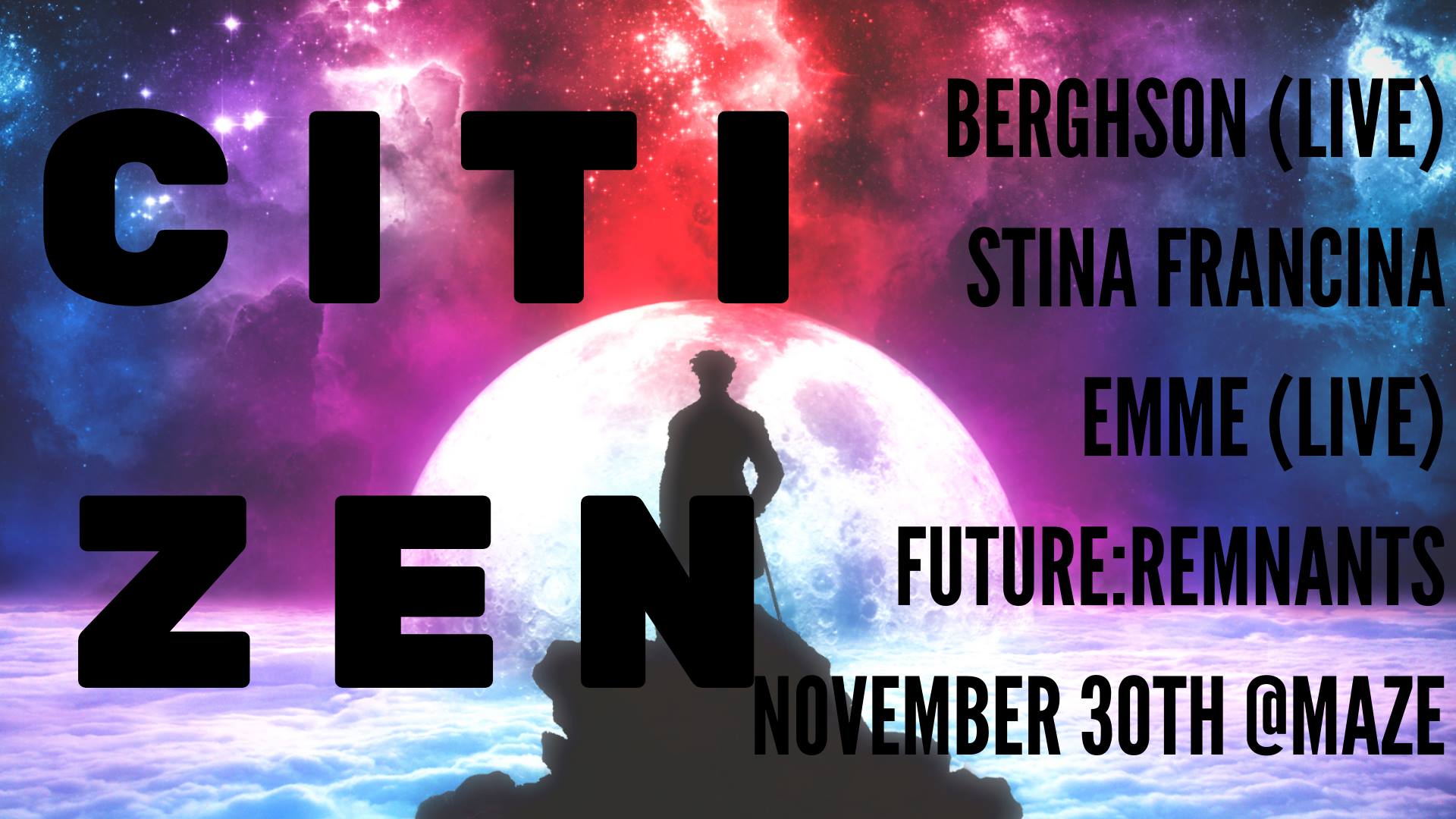 Line up:
Berghson (https://soundcloud.com/berghson)
Stina Francina (https://soundcloud.com/stinafrancina)
Emme (https://emmemoises.bandcamp.com/)
future:remnants (https://soundcloud.com/futureremnants)
EN
Citizen is the place to hear forward thinking electronic music and new sounds from cutting edge artists who have decided to make their home in Berlin. Expect to hear diverse sounds across the spectrum of live electronic music and DJs including ambient, Sci-fi, synth pop, house and techno.
Our next night showcases 4 hugely talented and diverse artists:
Berghson (https://soundcloud.com/berghson)
Berghson is a Berlin based artist originally from France.
Classically trained in piano, Berghson is now known for his absorptive, richly textured electronic sounds. Strongly influenced by techno and rave culture, Berghson is currently working on his next Ep which will be released by Tal der Verwirrung.
Berghson works with a modular system which gives him his authentic sound. His Livesets are powerful with fat basslines and clear melodies that fulfills the room ! He's also known as "The Imperator"
Stina Francina (https://soundcloud.com/stinafrancina) – Stina's unique sound straddles the boundary between house and techno, favouring hypnotic rhythms with a touch of acid, whilst occasionally treating the dancefloor to a heavy techno banger. Stina is well known for her ability to play well past closing time, even if there's only one person left in the club, so you may not be able to leave once she gets started.
Emme (https://emmemoises.bandcamp.com/) – Emme takes her influences from the sci-fi films she grew up watching as a child in Argentina. Using a mixture of hardware controllers and synths, Emme creates beautiful, soaring space-scapes and deep sonic explorations.
future:remnants (https://soundcloud.com/futureremnants) – Berlin based future:remnants (aka Fermweh) makes emotional, dark techno inspired by the urban cityscapes of Berlin and London. Future Remnants' tracks have been shaped and nurtured by the European and Detroit Techno scenes, with the records of Agoria, Answer Code Request, Ben Klock, Acronym, David August, Max Cooper Richie Hawtin, Scuba and Carl Craig all leaving their own impressions.
Resident Advisor:
https://www.residentadvisor.net/events/1173393