Diese Veranstaltung hat bereits stattgefunden.
Clubyoga & Ravesport
17. Dezember 2015 @ 19:00
Veranstaltung Navigation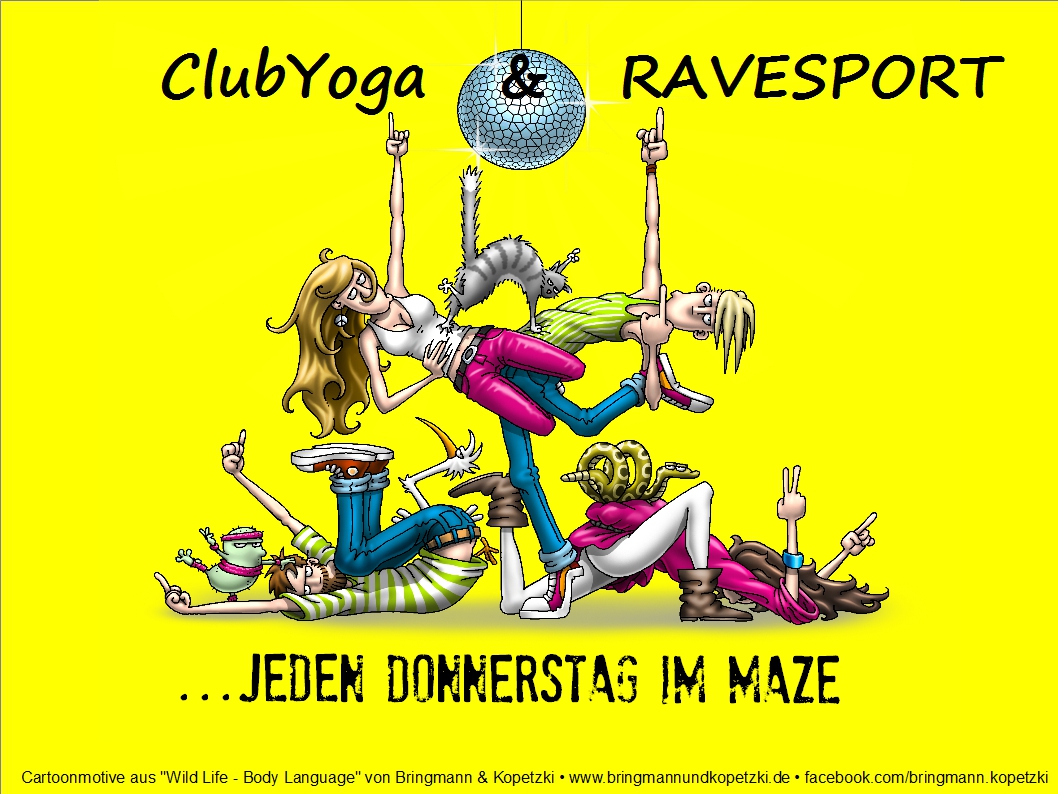 All styles, all levels, Remix-Yoga mit Beats! 
Donnerstags im Maze.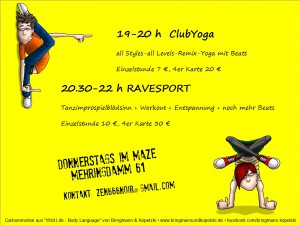 Club Yoga
Mein Yoga-Unterricht hebt genau die Punkte hervor, die ich allgemein im Leben wichtig finde:
– ich mische frei nach Stimmung, Fitness und Tagesform der Anwesenden verschiedene Stile-
alles fließt!
– Ich korrigiere wenig und es gibt keine Spiegel- Dein Gefühl für Dich und Deinen Körper
steht im Vordergrund!
– Egal ob Du blutiger Anfänger bist oder Vorerfahrung hast: alle Levels werden zugleich
unterrichtet. Yoga ist kein Wettkampf und es ist egal, was Dein Nachbar auf seiner Matte
macht- Dein Fokus liegt bei Dir!
– Es ist jederzeit Raum für Fragen, aber auch für Späße oder ein ernstes Gespräch. Yoga ist
kein Drill!
– Ich liefere keinen esoterischen Hintergrund, Ober- oder Überbau. Du musst keine Schlangen
erwecken, keine Laute in fremder Sprache singen und Räucherstäbchen gibt es auch nicht.
– Anders gesagt: Yoga ist eine sehr angenehme Art, den Körper und Geist gelassen und
geschmeidig zu machen, sich neu zu sortieren. Diese Erfahrung möchte ich gerne vermitteln- möglichst frei von Konzepten, Ideen und theoretischem Ballast.
Club Yoga (English)
In my Yoga classes, I emphasize the following points that are important to me for life in general:
– since everything is in constant flux and every single moment is unique, I provide a mixture of Yoga styles according to mood, overall fitness and the particular energy of the attending pupils.
– There are no mirrors and I give very little corrections- your perception of yourself and your body is what counts the most!
– It doesn't matter if you're a total newbie or an advanced Yoga practitioner: the class is open to all levels. Yoga is non-competitive, the focus lies on you and you only- no matter what your fellows do on their mats!
– There is always time and space to ask questions, make some jokes or have a more serious conversation. Yoga is no military drill!
– I strictly refuse to talk about somewhat esoteric theories, backgrounds etc. You will not be asked to awaken certain snakes, sing songs in a foreign language and there won't be incense
burnt.
– Put differently: Yoga is a very convenient way to arrive at a more balanced and relaxed body&mind set. To clean up both, inner and outer space of yours. My aim is to convey this experience as direct as possible, without any theoretical or conceptual overload.