Diese Veranstaltung hat bereits stattgefunden.
cosmic little session
Veranstaltung Navigation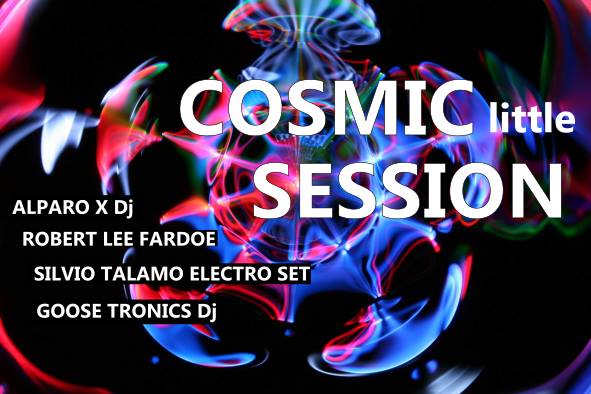 *****************************************************
////////// Cosmic ++ ++ Session /////////////
*****************************************************
The Cosmic Electro Session is a session dedicated to electronic music and\or the mix between the electronic music and acoustic, or not electronic, music: * half Synthetic, half Organic*.
The concept is the artist who use his instrument to create his opera, so like the poet use his pen to write his poem.
It is the musician to use his machines and not the machine to use the man. Under this point of view there is not difference between a guitar and a sampler if the sampler is used by a creative mind, two different tools to create emotions.
It is open to every kind of musicians, singers, songwriters, djs, instrumentalists, loopers, finger-drummers, beat-boxers, laptop and synth lovers. There is not a prevalence of genres just the energy of the proposal!
******** THE LINE UP *******
+++++ ROBERT LEE FARDOE – Guitar and Voice
"Robert Lee Fardoe is a passionate, soulful Singer/Songwriter from Wales. He sings deep, socio-political, multi-genre songs straight from the heart and is equally compelling with his ensemble or as a soloist. With performances of intensity, honesty and humility. Fardoe is a once-in-a-generation performer" – RUN UNITED
Robert Lee Fardoe – On This Planet (My Powers Are Weak)
https://soundcloud.com/robertleefardoe/on-this-planet-my-powers-are-weak
Robert Lee Fardoe – Darlin, I Wouldn't Do Bad Things To You
https://soundcloud.com/robertleefardoe/darlin-i-wouldnt-do-bad-things-to-you
Robert Lee Fardoe – Masstavists
https://soundcloud.com/robertleefardoe/07-masstavists?in=robertleefardoe/sets/robert-lee-fardoe
sound cloud https://soundcloud.com/robertleefardoe
+++++ SILVIO TALAMO ELECTRO SET – Electro Pop
Silvio Talamo is an electro songwriter. He uses to alternate "organic loops" (the loop he records live on the stage, on the fly), with grove box sequences, synths, samples and vocal experiments …
Silvio Talamo – Living in a Bubble electro version
https://soundcloud.com/silvio-talamo/living-in-a-bubble
Silvio Talamo – A cappella loop Version
https://soundcloud.com/silvio-talamo/i-am-going-to-improvise-a-cappella-version
Silvio Talamo – Feeling Demo/Electro/live
https://soundcloud.com/silvio-talamo/feeling-demoelectro
website: www.silviotalamo.it
Facebook: https://www.facebook.com/silviotalamomusicpage/
Soundcloud: https://soundcloud.com/silvio-talamo
++++++++++ GOOSE TRONICS – Dj
Canadian born dj and producer whose beginnings go all the way back to 2002 in the small town of Antigonish, Nova Scotia where in the basement of remix reaper he started learning the craft of DJing. As a teenagr he moved to the party city of Banff in Alberta and was taken in by systematic earthly gadgets and first taught how to produce by Bkode, to later on form the disorderlys and release an album and two singles as well as become a part of lowself productions & shuga shack productions, a resident at Hoodoo, a regular at dancing sasquatch, aurora and the hippy house banff. Had the pleasure of playing various sets at canadian festivals such as syncfest and edfest. Finished off his stay in Canada with an across the country tour, done directly before moving to Berlin to learn more about the scene and explore. Having focused on production for the last 4 years, he is currently taking steps to get back into the DJing game.
Goose Tronics – Mix Cloud
https://www.mixcloud.com/GooseTronics/
Goose Tronics – Spotify
https://open.spotify.com/artist/6UDmdL2taIpl4hOVanxWBA?si=7HFVJlo1Qp-HJMLa9iUcaQ
Goose Tronics – Sound Cloud
https://soundcloud.com/goosetronics
++++++++ Amparo X dj
Techno / traditional experimentation
https://soundcloud.com/amparox/the-great-stormy
*** Cosmic Session ***
https://www.facebook.com/Cosmic-Session-171886433353239/