Diese Veranstaltung hat bereits stattgefunden.
cosmic session
Veranstaltung Navigation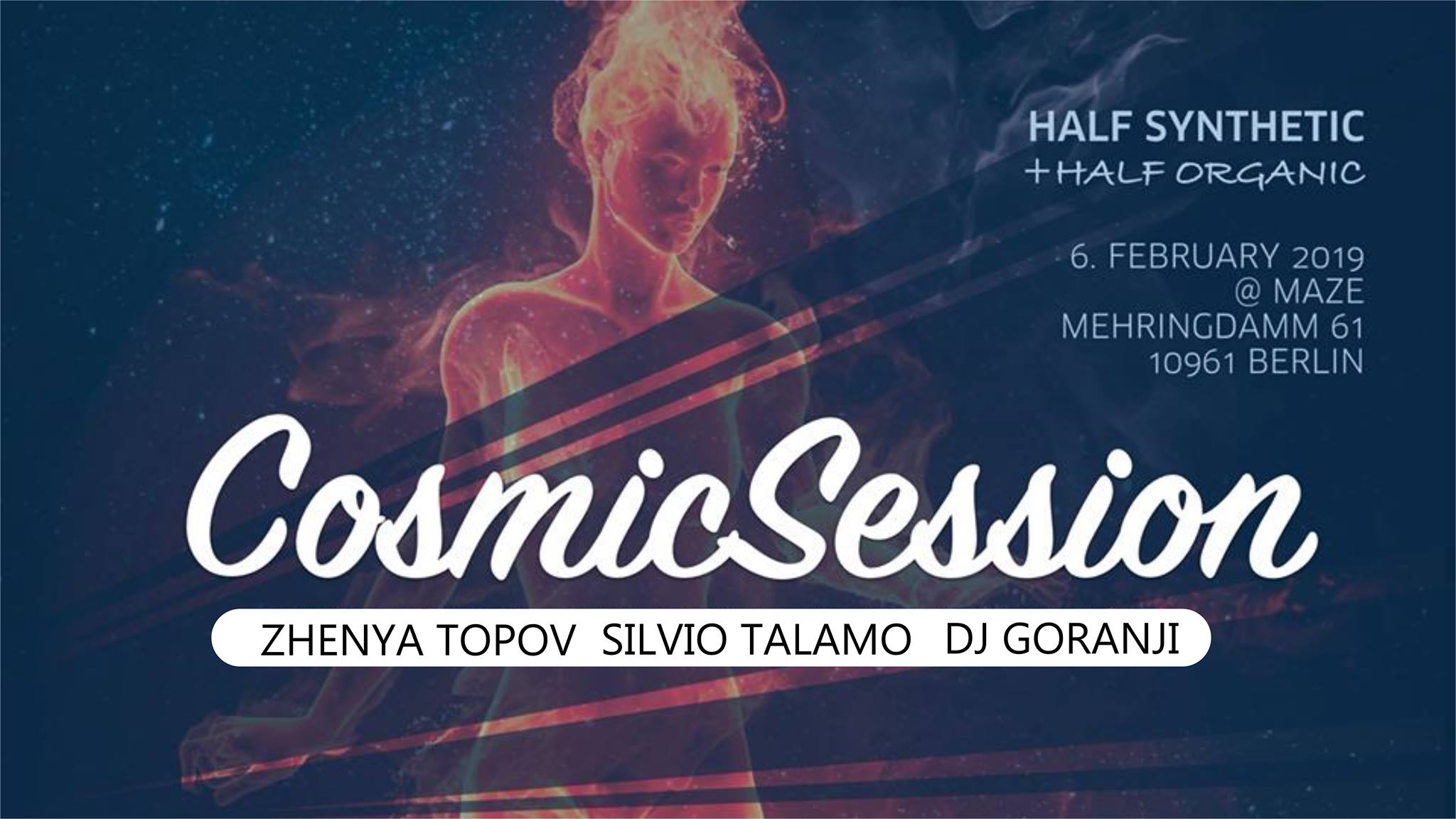 *****************************************************
////////// Cosmic ++ ++ Session /////////////
*****************************************************
:::: WORLD MUSIC Djs + LOOP FOLK ::::::
:::::::::::: + ELECTRONIC devices ::::::::
The Cosmic Electro Session is a session dedicated to electronic performative music and\or the mix between the electronic music and acoustic, or not electronic, music: * half Synthetic, half Organic*.
******** THE LINE UP *******
H.22.00
++++++++ ZHENYA TOPOV
Facebook: https://www.facebook.com/HandpanMusic/
Zhenya Topov is a Handpan musician and world music percussionist, composer for dance and theatre and physical theatre practitioner and pedagogue. A graduate of American Academy of Dramatic Arts (NY); Sonic Arts Program of Victoria University (Wellington, NZ) and Helikos- International School for Theatre Creation (Florence, Italy).
Zhenya combines his passions of music and theatre in his compositions, creating dramatic structures and improvising within them. He evokes spiraling cycles with subtle variations on the theme, creating evocative spaces for the listener to journey through.
Zhenya has been blessed to have his technique enriched in the workshops with David Kukherman and Kabecao Rodrigez both of whose music and musicianship have been an influence. Other artists that have inspired, are syncopation madman Nils Frahm, Kung Fu continuous music pianist – Lyubomir Melnik, the original minimalist Steve Reich and Detroit Techno pioneer Derrick May.
Zhenya regularly collaborates with storytellers, poets, contemporary dancers, singers and electronic music producers.
For expressions of interest, collaboration proposals, bookings and lesson inquiries please email: floatingbearaudio@gmail.com
Handpan compositions: www.zhenyatopov.bandcamp.com
Sound Cloud: www.soundcloud.com/zhenya-topov
22.40
++++++++++ SILVIO TALAMO – World Music / Electronic Music / Loops
Silvio Talamo is an Italian eclectic singer-songwriter and street musician involved between the electronic music and the acoustic. With his acoustic set he proposes a mixture of South Folk – a cappella Reggae and Loop Musica.
With his Electro Set he proposes a mixture of Electronic Music / Mediterranean Folk and Acappella chants. He uses to alternate "organic loops" (the loop he records live on the stage, on the fly), with grove box sequences, synths, samples, live guitar and vocal experiments …
Silvio Talamo – Feeling / live performance
https://soundcloud.com/silvio-talamo/feeling-demoelectro
Silvio Talamo – Bob Marley cover – metro music performance
https://www.facebook.com/silviotalamomusicpage/videos/730539597069806/
Silvio Talamo – improvisation
https://www.facebook.com/silviotalamomusicpage/videos/800957943361304/
Web Site: www.silviotalamo.it
H 23.30
+++++ GORANJI – Shamanic dance dj- Lap Top
Goranji made extensive use of music in early 80 and 90 mixtapes and more recently in his orgasm workshop, a Trojan horse for conveying a fresh blend of sexual therapy, movement and neuroscience in order to make it easier to surrender to exercises for better perception of the self and the other. This led him to become an ecstatic dance dj and build the foundation for a unique yet eclectic style of fusing world music with quiet dancable elements.
GORANIJ – Ecstatic ocean https://soundcloud.com/djgoranji/ecstatic-ocean-ecstatic-dance-on-nomad-cruise-7-atlantic-ocean
Facebok https://www.facebook.com/djgoranji/
Website www.silviotalamo.it
Facebook (handmade videos) https://www.facebook.com/silviotalamomusicpage/