Diese Veranstaltung hat bereits stattgefunden.
dreikantholz – elektronische livemusik
Veranstaltung Navigation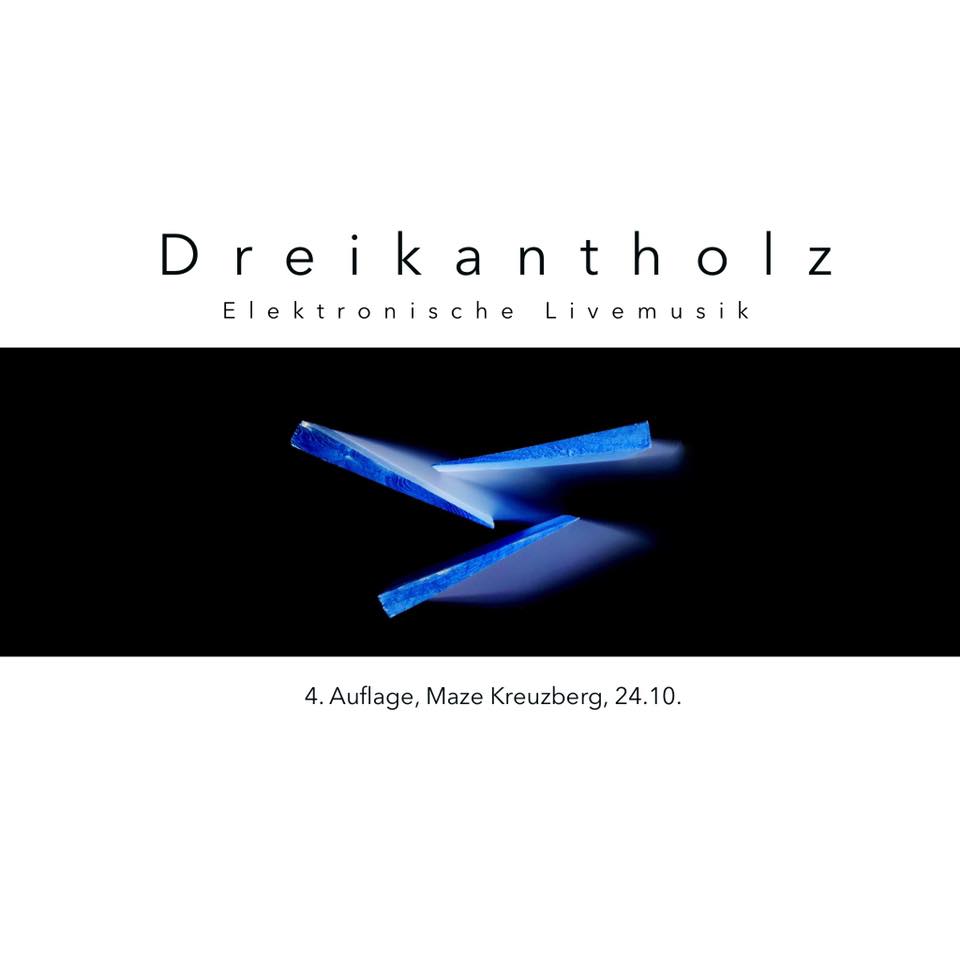 Hey,
we are building the night up again. Come with us not only to chill and dance, then also to explore the beauty and diversity of Electronic Live Music.
Lineup:
20. Jacqnoise CELL (athmospheric.noisy, electronics)
21. Meresha (soulful.vocalised, alien pop)
22. Sondermüller (trippy.bridgeing, melodic techno)
23. Opitz Set 1 (energetic.movement, ambient techno)
0. Andrew Blumhagen (rawsound.states, acid techno)
1. Vamp Acid (sultry.hypnotik, dark rave)
2. Alec Budd
3. tba.
4. Opitz Set 2
About the Artists:
Jacqnoise CELL:
Jacqnoise comes with her Euroracksystem to bring us the edges of modular synthesizers. This evening she performs in the collaboration CELL. As an appetiser of the evening, they will create a loose and atmospheric sound that let us dive into unknown territories, where we can warm up the ears for the rest of the program.
Meresha:
By building her Liveset up around different electronic instruments and her soulful voice, the combination transports the members through an astral electronic landscape, elevating the frequencies into the zone of alien pop.
Sondermüller:
Working with all sorts of different soundsources he plays Livesets which build bridges. Not necessarily genre specific, the music has an trippy, melodic and melancholic vibe generated by electronic instruments and alternative rhythm structures.
Opitz:
Combining improvised baselines with sequences and moving chord arrangements gives his music space to live. By using the strength of different synthesis, the sounds reaching from harmonic over disharmonic to purely fx, combined with a danceable groove.
Andrew Blumhagen:
Acidlines over Kickdrums. That's not it. By assembling his own modularsystem, he's diving deep into raw sound structures and rhythmic sequencing territories. Besides the direkt sound, he also enriches his sets with a human feeling and creates different states of mind.
Vamp Acid:
Cutting shouts and sultry vocals give the arrangements a by her punktime influenced felling. In combination with fine acidlines and sweet electronic beats the package is ready to rock.
Alec Budd:
tbd.
Entry on a 2€ donation basis.