Diese Veranstaltung hat bereits stattgefunden.
Experimental B3atz – Synth-Jamsession
Veranstaltung Navigation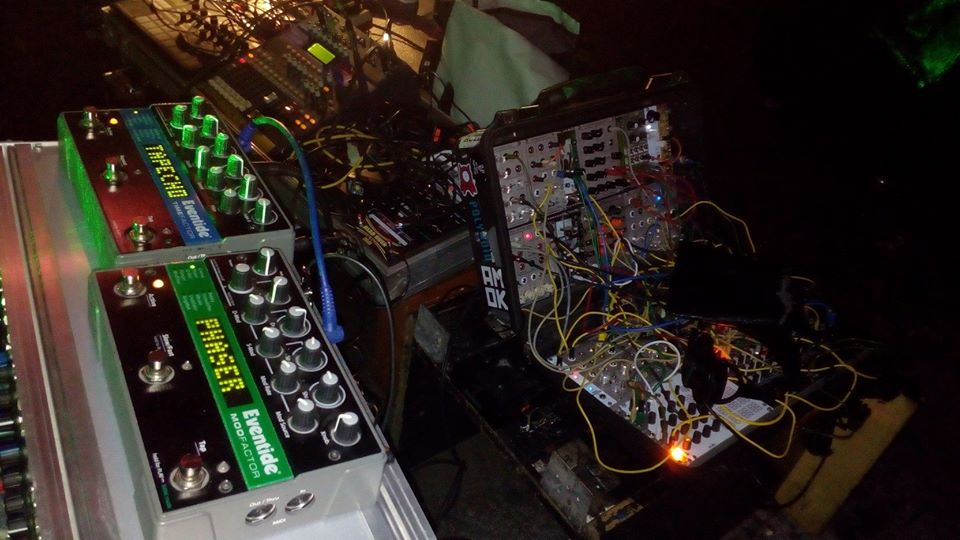 Synth & Modular Experimental Electronic Music Jam
Free Entry!!!
Hosted by Anna-Maria & Robin (muzzikkk)
and Andy Hinrichs (visuals)
Line-up:
Andreas Krach (Live Modular Synth)
HprScl3 (Visuals)
Gioal Giovanni (Trumpet with FX)
"Sonare, Sine Nomine" (Ed on Live Modular Synth)
Robbertunist (Robin Burke on Strings & Basslines)
Possible additions to the Line-up:
Aporia::Atopia (Live Modular Synth)
Piska Power (Stefan Junge)
Kermit Lefrog (Live Analog Rhythm Manipulations)
Evil fairy in the background: Dr Walker / Asbest
If you'd like to play this time or another (next jam is December 22nd), please contact Robin Burke or Anna-Maria Van Reusel. Disclaimer: This is NOT an open "cum-bye-ja" sing-song around a campfire jam where anyone & everyone can join in 😉
The jamsession is WITH beats, the slow and phunky kind and not bummbummbumm Techno. (not means NOT!!!).
We have some simple guidelines:
Ideally this jam should have a 50% female lineup but it's sadly difficult to manage.
Minimum of 2 people & a maximum of 4 or 5 jamming at the same time.
No silent pauses, this will be broadcast on local radio so no "dead air" please.
30mins or so max on stage, then at least half of that time out of the mix. There'll be a mixer which can also be played if someone feelings like taking the volume controls to give some shape to the overall sound.
We will sync with each other using midi and clock signals but I definitely insist that there will NOT be a constant 909 kick drum for hours at the same repetitive 4/4 rhythm and 120bpm default tempo! This is not a Techno or House jam 😉
Our jam will sound like an audio voyage through Jupiter's earth size storms, space canals of cosmic stardust & peaceful seas of liquid oxygen & nitrogen.
If you can sing then please bring your voice, rhymes & melodies, a mic & optional FX.
Any questions or thoughts, please ask as we're all about listening 🙂
The venue opens at 8pm and the musicians will only set up after this but feel free to come by & chat with us or enjoy the music as there's always something playing. We may open with a solo act or duo performing around 10:30 to 11pm with the jam beginning at 11:30pm and ending by 4am at the very earliest.
Entry is Free so please tell your friends (especially the ones who can't afford Berghain!!!)
2€ extra for your first drink goes to the artists, they've got to cover their travel costs 🙂
The jamsession is broadcast on local radio ALEX Berlin ukw 91,0FM (area berlin potsdam) or webstream: www.alex-berlin.de/radio