Diese Veranstaltung hat bereits stattgefunden.
fuzuê – karneval der kulturen
Veranstaltung Navigation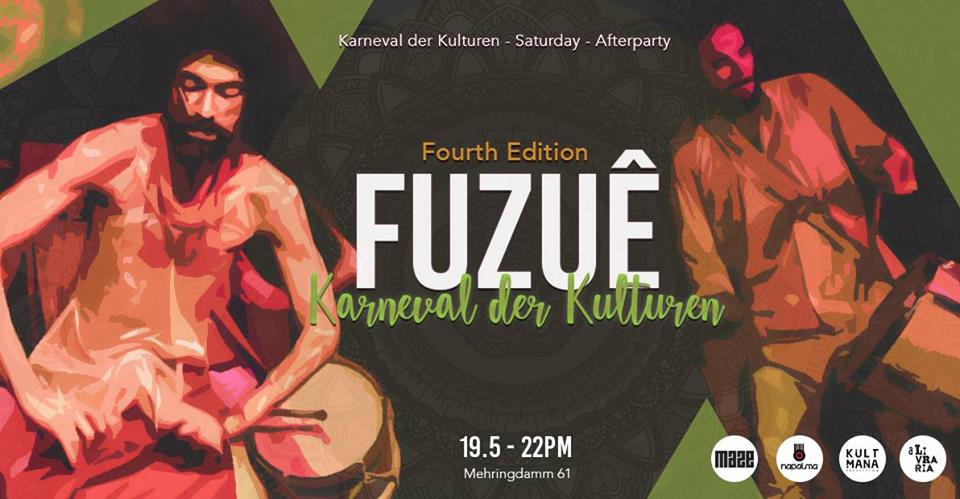 The cultural event Fuzuê comes back this time celebrating the Karneval der Kulturen and the spring vibes. We are preparing an afterparty for Saturday night, right there in Mehringdamm.
The band Napalma MUSIC presents its live concert one day before at the cultural stage during the festival. Coming to a closer show they promise to keep up the vibes and performe a powerful set of electronic dance grooves, percussion and rhythms from Afro Brazilian musical heritage mixed with a riveting performance and inspiring vocals in Portuguese, English and Shangaan, from Mozambique.
[ More info: https://www.napalma.com.br ]
The night goes on with K'boko with his live DJ Set, with the best of tribal music, playing around time and space.
Check out:
[ https://kbokodub.bandcamp.com ]
[ https://soundcloud.com/kboko-dub ]
To welcome all our guests, we have our master of ceremony John Kalagary with a perfomantic act to open up our doors and make sure everyone is treat well.
Follow his works on:
[ https://www.facebook.com/KalagaryArt/ ]
—–     —–
For more info about coming events, follow:
FUZUÊ, Kultmana & A Livraria Berlim // Production
Maze , Napalma MUSIC & John Kalagary // Support