Diese Veranstaltung hat bereits stattgefunden.
GIFT presents Britpop Excess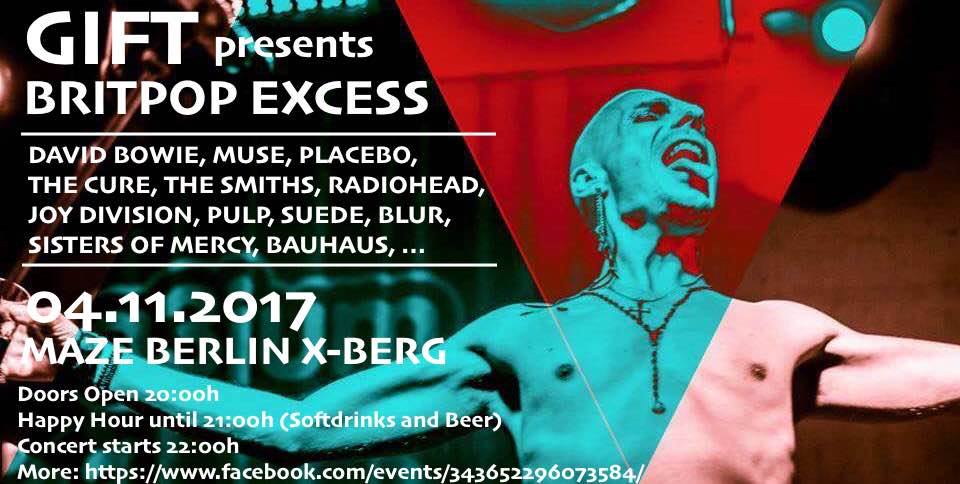 GIFT ist eine ambitionierte Band von engagierten Künstlern, die regelmäßig in den angesagtesten EX-YU Clubs auftreten. Diese extravaganten Aufführungen und die Hingabe zu der Musik die sie spielen, bringt eine große Anzahl von Menschen zusammen die Musik leben und lieben. Auch bekannt für ihre Interaktion mit dem Publikum, geben sie sich einerseits völlig dem Publikum hin und nehmen andererseits die Hingabe des Publikums als das Geschenk an.
Wenn wir sie in einem Wort beschreiben sollten, dann wäre es sicher: ENERGIE!
Du liebst die Musik der Bands wie: Pulp, Blur, Oasis, The Verve, Suede, Duran Duran, Joy Division, The Cure, Iggy Pop, David Bowie, Talking Heads, INXS, Kraftwerk, The Clash, Muse, Gorillaz, New Order, REM, Arctic Monkeys, U2, Pet Shop Boys, Radiohead, Eurythmics, Bryan Ferry, Sisters of Mercy, Stereo MCsSimple Minds, Coldplay, ….dann sei dabei !
Mehr über GIFT unter www.giftband.org
Open Door: 20:00 h
Happy Hour: until 21:00 h
Concert starts: 22:00 h
Party after Concert!
Tickets: https://www.eventbrite.de