Diese Veranstaltung hat bereits stattgefunden.
improvising synth musicians
Veranstaltung Navigation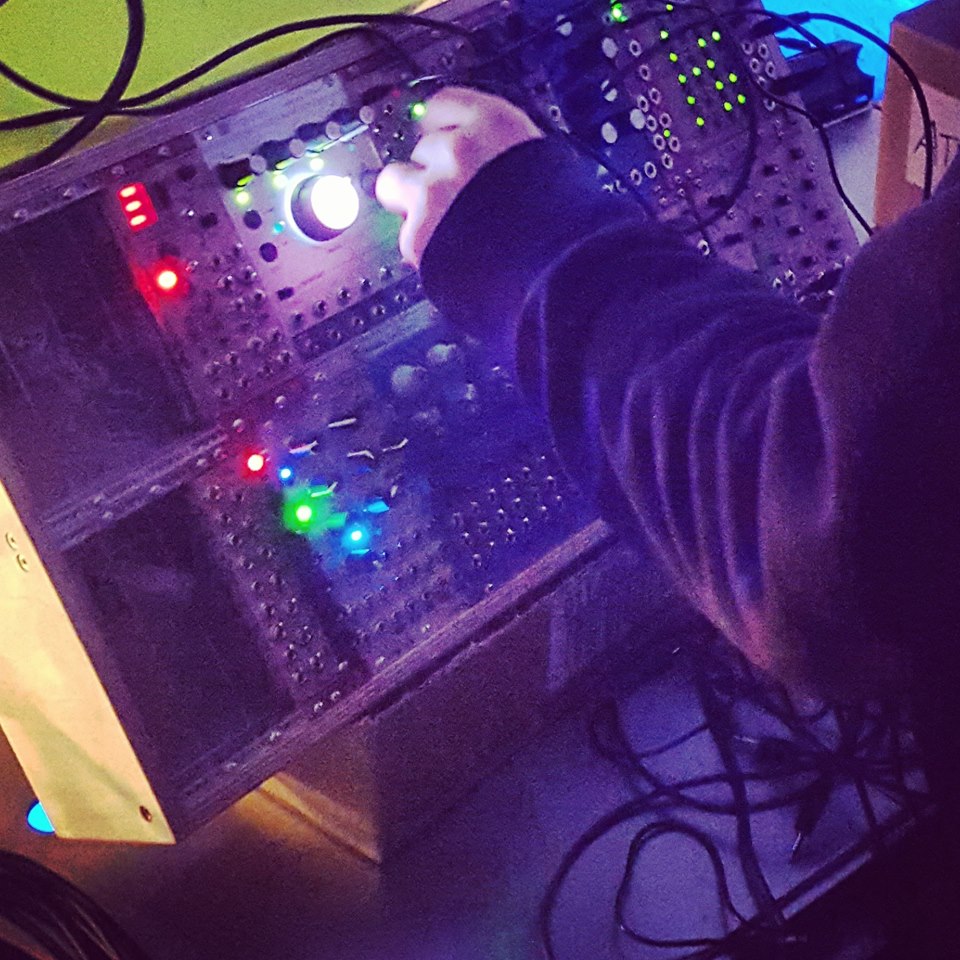 jam & solo performances @ #lsb02-lounge
&
zampi all night long @ club
---
lounge:
Drop in for a night of live electronic music performance presented to you by various artists playing solo and improvising together. They play on synth hardware ranging from modular synths to drum machines augmented with effect pedals & DIY synths … and all this together with great projected visuals by HprScl3.
This is part of the regular and ongoing jams at the LSB called "Experimental Beatz" as hosted by Anna-Maria Van Reusel, Robin Burke with very helpful assistance from Andy Hinrichs and master minded by Ingmar Koch.
22:00 Max Luft opening with a modular synth piece.
soundcloud.com/maxluft
23:00 Lucas Sesboüé (AKA: Docteur Lulu / Philippe Buchanon)
https://www.youtube.com/channel/UC4C3bZvIF3ID-6DLe_6TlCg
00:00 Adam John Williams
www.facebook.com/adamjohnwilliamsartist
01:00 Jam with Robin Burke (AKA: Robbertunist) & Guests
If you'd like to play, please contact one of the hosts 🙂
Free Entrance. There is a contribution for the Artists of 2€ on every first drink.
The jam session is broadcast on local radio ALEX Berlin ukw 91,0FM (within Berlin & Potsdam) and streamed online at: www.alex-berlin.de/radio
Please check the facebook-event to stay up-to-date 🙂
---
the club will open at 23:00
---
beloved mthrfkkrz,
maze & liquid sky berlin r happy 2 announce:
the liquid sky berlin #lsb02
experimental audiovisual lounge & art gallery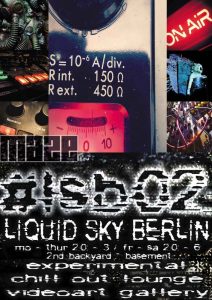 will be open weekdays monday to thursday 8 pm to 3 am
free entrance
fridays and saturdays 8 pm to 6 am
only day closed is sunday as you my friends and we need at least one
day rest to remember our names and reload our batteries for upcoming
creative noise adventures.
what to exspect @ #lsb02
chill out music / ambient / ambient noise / musique concrete / krautrock and neo krautrock / psychedelic lounge music / electronic dub / experimental soundscapes / drone music / dubtechno / experimental hiphop / new school triphop / treptowbass / mindbending freestyle music
experimental videoart / glitch / visual noise / videoinstallations
dark abstract / surreal / experimental / dada art installations / paintings / photography / sculptures
age of audience: 21 – 127
hipsterfree zone
liquid sky berlin – #lsb02
@ maze / mehringdamm 61, berrrrlin krrrrreuzberg
entrance is in the 2nd backyard
stalk us online:
www.liquidskyberlin.com
www.maze.berlin
www.facebook.com/liquidskyberlin
www.facebook.com/kunst.kultur.wohnzimmer/
www.twitter.com/liquidskyberlin
www.twitter.com/maze_berlin_61
www.instagram.com/liquidskyberlin
www.instagram.com/maze.berlin/
WTF?!
wtf is maze?
maze is a cultural center in the heart of kreuzberg
wtf is liquid sky berlin?
lsb is an artistcollective and d-sign agency which teamed up
with maze for a nextlevel psychedelic lounge / bar / gallery adventure land:
#lsb02
the meeting point and meltingpot for experimental multimedia artists from
all over the fkkn planet – located in the heart of berlin