Diese Veranstaltung hat bereits stattgefunden.
legpuppy, nature of wires, the pink diamond revue & ebit – live
20. September 2019 @ 19:00
Veranstaltung Navigation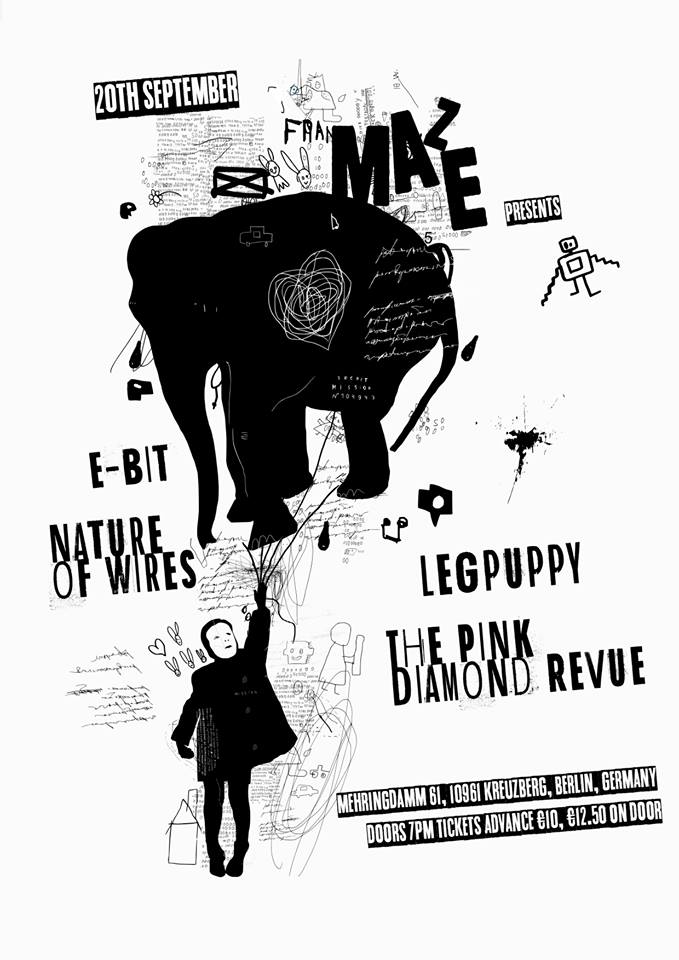 South Londons LegPuppy were originally formed amongst a backdrop of bingo callers, haunted rickety hotels, dancing goats and clown worshipers.
Electro-dance-punk/multi-media four piece offer a satirical attack on the modern world, with tracks including 'Selfie Stick Narcissistic Prick' 'Paranoid' and 'Twit Machine'. It's a brilliant showcase for what they're all about; humour, satire, and a whole lot of personality.
"A 'NIN'ed-up Amber Arcades on Steroids"
Nature of Wires was formed in 1986 in Herefordshire, UK. The original line-up was Gary Watts and Andrew Stirling-Brown. In 1993 vocalist Sarah Bouchier, aka Lady B, joined, but the following year the band decided to take a "6-month" break, which would last more than 20 years!
In 2015 NoW reformed and joined forces with US vocalist CountessM. In 2016 they released Cyber Rendezvous on the UK's AnalogueTrash label, which was the first album since 1993's Modus Operandi. Also in 2016 Tim Powell-Tuck joined on electronic drums. In November 2018 Lady B returned, making her second debut at Manchester's iconic Ruby Lounge. NoW has appeared with many giants of the electronic scene, including Empathy Test, Aesthetic Perfection, Lord of the Lost and Leaether Strip and more shows are planned for 2019, with sights set on festivals in the UK and mainland Europe.
NoW released "Reborn", a four-track EP, on Germany's Echozone label on April 26th 2019. The first single from the EP "Try" reached number 9 in the German Alternative Charts. NoW has also created remixes for dozens of international artists including Massive Ego, Leaether Strip, Sigue Sigue Sputnik Electronic, !distain, Freakangel, Machine Rox & Vogon Poetry.
https://www.natureofwires.com/
A musical Electro/ Dance/ Psych journey with vocal samples
"The Pink Diamond Revue. A band who make it good to feel bad. I'm going home to wash my soul. Go and see them."

https://www.thepinkdiamondrevue.com