Diese Veranstaltung hat bereits stattgefunden.
LUNAR SOUNDS curated by Urban Arts Berlin
Veranstaltung Navigation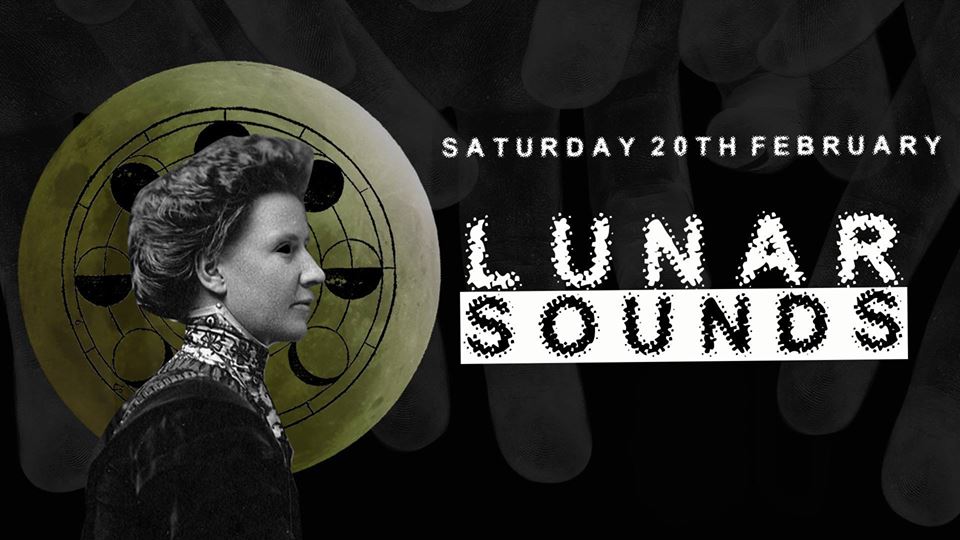 Urban Arts proudly presents:
A colourful night dedicated to the Moon in Winter times. 
Our audience will be able to explore different rooms & types of music as it was a lunar cycle.
MAIN STAGE from 20-24 p.m.
Vocal Performers:
VERA BREMERTON (UK)
Italian-born and originally trained as a pianist and a singer, Vera Bremerton was influenced by classical music in terms of harmony and polyphony; after moving to London she fell in love with the harshest styles of industrial, noise, avantgarde music. With these two different roots in mind she creates aggressive electronic sonic carpets studded with pounding techno beats and unashamedly symphonic elements. At the same time she has dramatically extended her vocal skills in the realm of experimental vocalism: counting Diamanda Galàs, Maria Callas and Meredith Monk among her muses, Vera uses different timbres, effects and an 4-octaves vocal range. Her songs have become a vessel for the irrational and the Dionysian and she has performed them in clubs around the UK, Italy, Germany and Holland. She has released two albums, "Elemental" and "Synaptica". Recently Vera has shifted to a feminist techno-noise side project called Viy. By means of multiple layers of harsh techno beats, noise drones, strident samples of high-pitched screams, Viy wants to denounce the indifference and hypocrisy the issue of sexual abuse is treated with by the media, religion and the public. These tracks have been highly successful in several techno nights. 
https://www.facebook.com/verabremertonpage?_rdr=p
https://soundcloud.com/verabremerton/
https://soundcloud.com/viy-1 
https://vimeo.com/69735018
MAD KATE I THE TIDE (US)
Together, the Tide on guitar, loops, electronics and Mad Kate singing, speaking and screaming and moving—grace the stage and touch their audience as they practice ALIVEness: queering our self- understanding in a global context in order to be more effective activists and global citizens.<Mad Kate ∣ the Tide> has already had the honor of headlining the Gottingen Feminist Festival, supporting Peaches at the SlutWalk Soli party in Berlin, and sharing the night with Penny Arcade at the International Performance Art Festival in Copenhagen.They will release their conceptual album ALIVE:ness in early 2013, along with a book of experimental prose by the same name.Its dynamic range of music forms the backbone for Mad Kate's conceptual performance art and movement—therefore it draws from multiple styles and musical influences, ranging from punk to folk to psychedelic to spoken word and leaves their audience breathless, agitated, provoked and consciously engaged.ALIVE:nessTo what extent are we alive in each other's lives —physically, emotionally, electronically, living or dead — taking into account our contemporary context of virtual interaction, shape-shifting and polyphysical interpretations of our own identities.What does it mean to be present when the terms of our own existence are relative to how we interact physically and virtually with those most close to us?
http://tideofsound.net/mad-kate-the-tide/
FAKE MISTRESS (DE)
Music producer, singer and solo-performer FAKE mistress is doing a mixture between, noise, field-recodings, beats and strange lyrics.
BLEEDINGBLACKWOOD I THE BERNSTEINS (DE)
Music made on found instruments and non-instruments. First played in the dark. Sometimes stolen from the world and put into the computer. Loops and Toy-Pianos – Zither and Glockenspiel – Bontempi meets Accordeon – broken glass and steps on the wooden floor.
Music for sad giants, lost dwarfs and fairies on the run. Music to listen to in the night, made for bats, while they are chasing insects. Made for swans and cranes.
Backed by beautiful vocal ensemble "The Bernsteins".
https://soundcloud.com/tc_engel
https://www.facebook.com/Bleedingblackwood/?__mref=message_bubble
https://www.facebook.com/TheBernsteins/?__mref=message_bubble
LADY GABY (AU)
Lady Gaby is the 'hostess with the mostes', performance and visual artist, writer, event organiser in Berlin, the city where she found her feet, her words and works and made up her mind about the world around her. Her provocative work expresses her daily life, encounters with others and her surroundings. 'Gaby dressed in purple and green, takes the microphone and with her words takes over everybody souls. Words of truth, love, society, anger and values. Eyes of life.
DJ KATIE CONXITA (US)
Melodramatic pop, house and techno
DANCE FLOOR 
From 22- opened end:
ECSTASPHERE I APHEXIA (Hamburg) – Live Set
Both pojects are the two sides of multidirectional musician Ophelia The Suffering. This projects reflect the very core of her intellectual, spiritual and emotional existence by transforming fragments of her mind into sound in very different ways. These two projects can be described as two opposite poles of one emotionally magnetic force. 
While ECSTASPHERE's sound is based on deep, hypnotizing Rhythmic Noise surfaces, Industrial beats and classical elements, APHEXIA is more IDM oriented and combines complex layers of percussive structures with enchanting melodies and spherical soundscapes.
For LUNAR SOUNDS she will present tracks from both projects in one set focusing on the mutual material from her "collaborative" and "Klangporträts" concept.
Ecstasphere.bandcamp.com
Soundcloud.com/ecstasphere
Soundcloud.com/aphexia
Facebook.com/ecstasphere
Facebook.com/aphexiamusic
LUDI OKTOKREUZ (FR) – DJ Set
Passionated about music mainly focusing on its darker shades from synthwave to industrial, Ludi has always enjoyed travelling around Europe for concerts, festivals and parties. She first started to DJ for post-punk/coldwave parties in Paris during 2003. Nowadays residing in Berlin, she is a member of Dis/Tanz, a collective organizing parties and soli-parties for causes usually related to queer and women's rights.
www.distanz.org
https://www.mixcloud.com/Ludi_Oktokreuz/
VRED
Due to health issues Priszm won't play at Lunar Sounds. Instead we will have VRED joining the line up.
Vred is an artist based in Madrid who has been actively involved in the national underground musical scene. His eclectic approach conducted him to found several proyects related with Acid-techno, Synthwave and darkfolk.
https://vredvred.bandcamp.com/
https://soundcloud.com/cut-tape-1
AMPERIA (SP) – DJ Set
Amperia (aka Aurelia Dinamita) has been involved in event organization and music promotion within the dark scene in Madrid since her early twenties. Since 2010 she has been hosting dark wave D.I.Y. parties with FLT* (Female/Lesbian/Trans*) line-ups in Berlin, including Trash Me and Dist/Tanz. By 2014 Amperia was seduced by the alternative techno scene in Madrid, and started DJing with the Abismal artist collective. Before and since: just a matter of spinning records.
https://soundcloud.com/amperia-bln
KERSTINGJOHÄNNER (DE) – Live Set
"You fall in love. With music. You dive into it. Into its glow, into its wrinkles and flaws. You hear it. You lose yourself in it again and again, until you know every bend, every break and every note. But then it comes. The dead end. This feeling when the familiar is not enough and you have to break out of the routine. You change into your jacket and leave. Into a club where new music awaits. A free, warm music, as easy as love itself. Music by Kerstingjohänner. "
https://soundcloud.com/jonaskerstingjohaenner