Diese Veranstaltung hat bereits stattgefunden.
Merlin's Berlin #3 – starring Steev Lemercier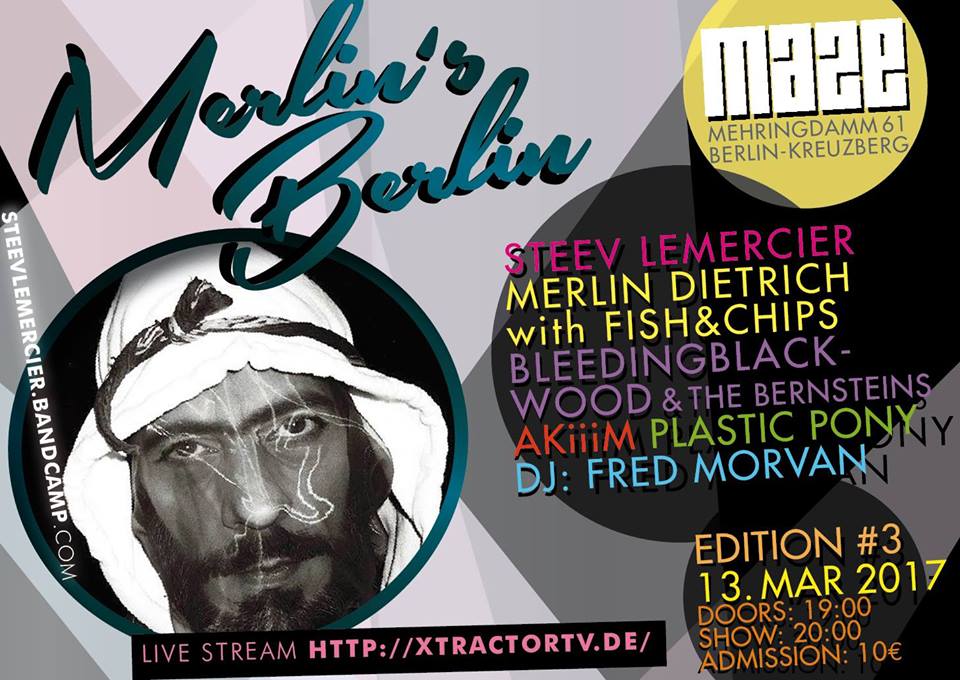 Throughout 2017, Merlin Dietrich will be playing at Maze every second Monday of the month, and inviting the pick of Berlin's underground and queer artists to join him. In between bands there will be variety acts, performance art and chat, and the whole evening will be live-streamed to the world! Anything could happen—and it probably will!
After the show, DJ Fred Morvan will spin till the last night-bus.
DOORS: 19:00
SHOW: 20:00
Live-stream link: http://xtractortv.de/
The theme of Merlin's Berlin Edition 3 is DANCERS IN THE DARK, and the line-up is as follows (more details to be added soon).

STEEV LEMERCIER
Berlin legend Steev Lemercier performs a sharp selection from his excellent soon to be released political-world-influenced electronic album #deep #dark #web.
https://steevlemercier.bandcamp.com/track/versus
MERLIN DIETRICH
with his fabulous band Fish & Chips.
AKiiiM: Tap-dancer in the morphic field.
www.akiiim.com
BLEEDINGBLACKWOOD AND THE BERNSTEINS
Drunken-sailor love-songs from this insanely talented freak-folk troubadour, whose debut album, Record Full of Last Songs, was Merlin's favourite release of 2016.
https://www.facebook.com/Bleedingblackwood/
PLASTIC PONY
Songs in the midst of apocalypse and laughter played on piano, cello and electric guitar.
DJ FRED MORVAN
Everyone's favourtite DJ… to take you higher!
* * *
Merlin's Berlin: Edition 4, starring Juwelia Soraya, will be on April 10th.