Diese Veranstaltung hat bereits stattgefunden.
Merlin's Berlin #5, starring Stephen Paul Taylor & Fred Morvan
Veranstaltung Navigation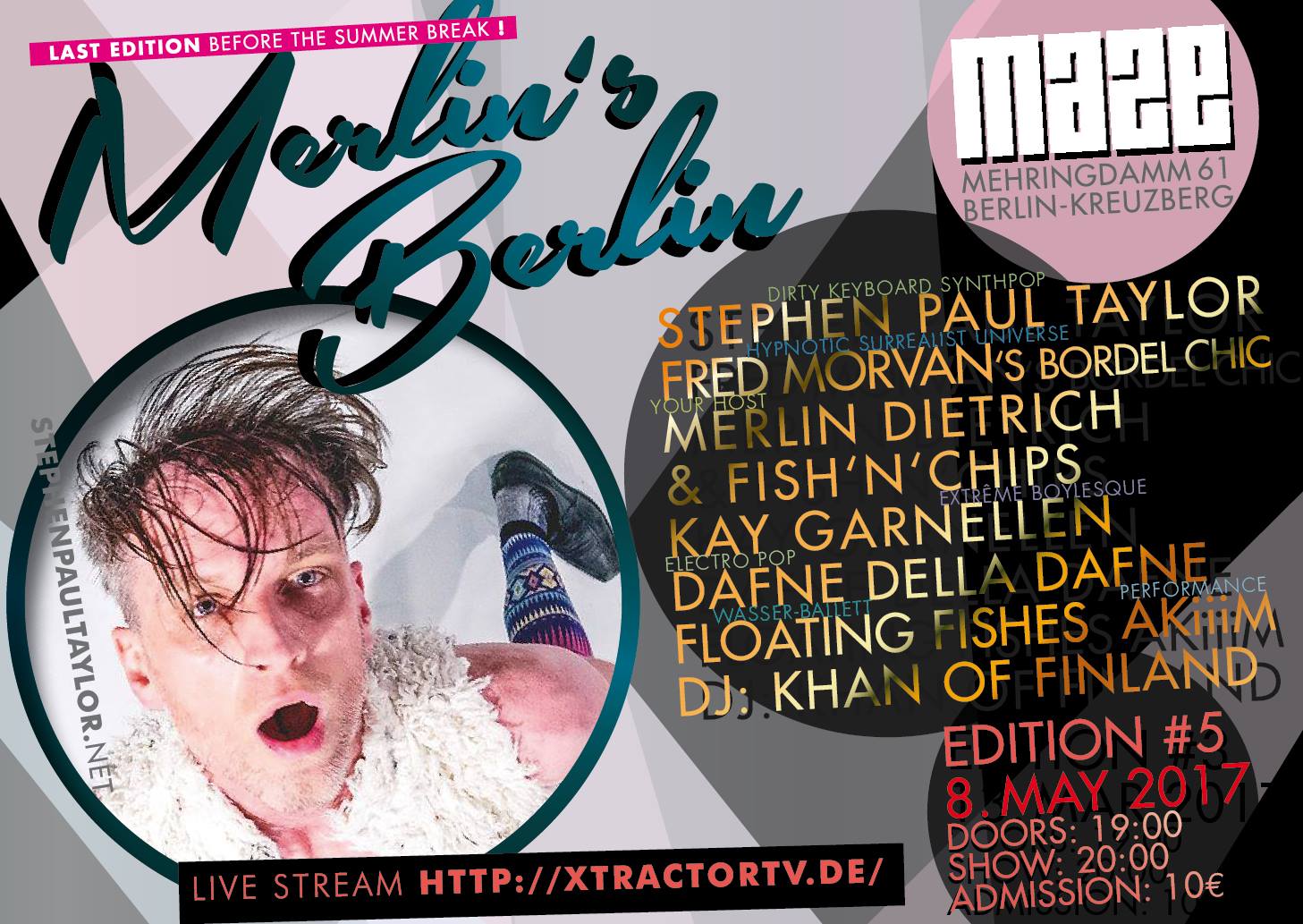 Throughout 2017, Merlin Dietrich is playing at Maze every second Monday of the month, and inviting the pick of Berlin's underground and queer artists to join him. In between bands there are variety acts, performance art and chat, and the whole evening is live-streamed to the world! Anything could happen—and it probably will!
The fifth edition (the last before our summer break) is on May 8th, and the theme is Sexy Motherfuckers! It will co-star dirty keyboard synthpop phenomenon Stephen Paul Taylor and Fred Morvan with his hypnotic surrealist project Bordel Chic. There will be electropop from Dafne Della Dafne of Late Nights in Squat Bars and a performance from tap-dancer in the morphic field AKiiiM. Regulars Merlin and Fish 'n Chips will also play for your pleasure. As if that were not enough, there will be a sensational appearance by extrême boylesque artist KAy Garnellen, a chance to see the world's only dry-land synchronised swimming group Floating Fishes, and a special guest appearance from Alfred Ladylike. Can you stand it?
After the show, DJ Khan of Finland will take us higher and higher. The lovely Steev Lemercier will play the early DJ set and man the DJ desk during the live show.
DOORS: 19:00
SHOW: 20:00
Live-stream link: http://xtractortv.de/
The line-up is as follows (more details to be added soon).
STEPHEN PAUL TAYLOR
Dirty keyboard synthpop
www.stephenpaultaylor.net
FRED MORVAN'S BORDEL CHIC
"Bordel Chic" is the latest project of the French Berlin-based musician and Dj Fred Morvan. His universe blends expressionism & surrealism, electro & sensuality, spoken & sung, hypnotic rhythms infused by strange dissonances.
"Bordel Chic" is an inner journey about sex, seduction, mirrors, confessions and visionary hallucinations. An intimate electronic sound world to explore and to experience in live and on the dance floor.
Fred Morvan (Vocals – Electro instruments) & Ulrike Eckel (Veejing)
www.fredmorvan.com
https://fredmorvan.bandcamp.com/album/bordel-chic-double-single
MERLIN DIETRICH
with his fabulous band Fish & Chips.
AKiiiM
Tap-dancer in the morphic field
DAFNE DELLA DAFNE
Love songs to mitigate the tribulations of late capitalism. Brought to you by your devoted indytronic songwriter, producer and radio maker Dafne Della Dafne of Late Nights in Squat Bars sub-cultural renown. Women of the electronic world unite!
https://soundcloud.com/dafnedelladafne
KAY GARNELLEN
The performer KAy Garnellen is gonna take you into his queer and sexpositive world. Back on Berlin's stage for the first time this year for the last edition before the summer break he will surprise you with a hot boylesque performance!
FLOATING FISHES
The world's only dry-land synchronised swimming group
http://i.giphy.com/l2SqekPLL1WEaUaB2.gif
DJ KHAN OF FINLAND
Everyone's favourtite DJ… to take you higher and higher!
DJ STEEV LEMERCIER
Our beloved Steev Lemercier will play the early DJ set and man the DJ desk during the live show.
with a special guest appearance from:
ALFRED LADYLIKE
A soulful songstress banging out witty little ditties on the ukulele and juicy folktronica jams for queer nerds, alien weirdos, and just about everyone else.
"Alfred ladylike […] does for singing what Syd Barrett did for guitars." – Joseph Given, fan
https://www.facebook.com/alfredladylike/
* * *
Merlin's Berlin will return in the autumn with more fabulous guests