Diese Veranstaltung hat bereits stattgefunden.
Over the Under [PL] -100 gigs in 100 days -100% tour
Veranstaltung Navigation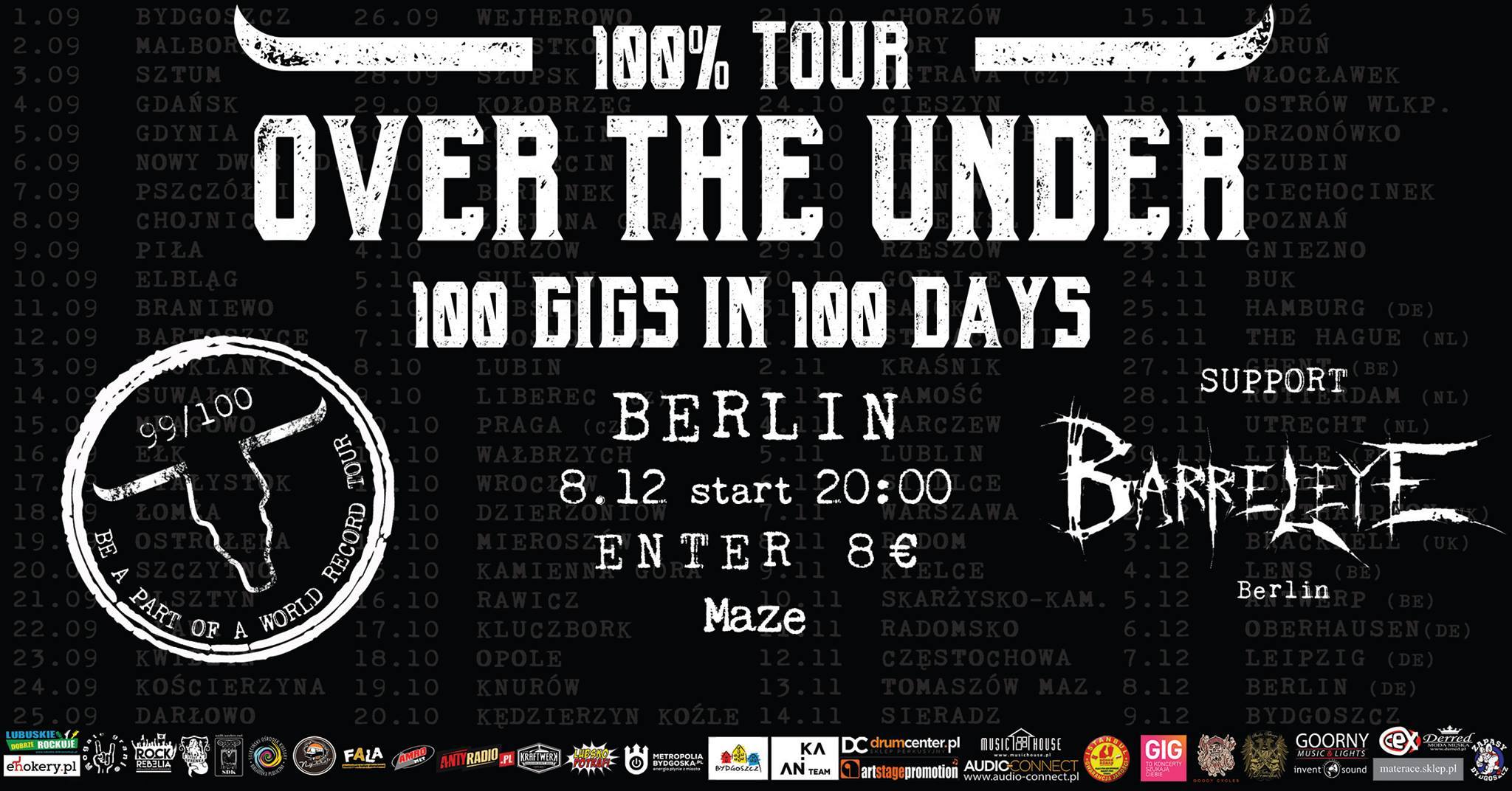 Over The Under– "100%tour – 100gigs in 100 days"
——–info——
Start:20:00
Place: Berlin – Maze
support: Barreleye
Over The Under – Blues Metal band from Bydgoszcz (Poland).
Only this year played more than 40 concerts.
From September 1st will launch the "100% tour" – 100 concerts in 100 days!
This tour will try to beat world record. The very idea of the "100% tour" tour is very simple
– building the Polish music scene at the base. 100 concerts day after day … The idea of the "100% Tour" is simple:
to prove that the rock'n'roll band,
using the old "Do It Yourself" method can make big things and make dreams come true.
It is about to "inject" love to honest rock music to people in Poland and rest of Europe
by playing wherever possible and engaging local bands.
In short: cooperation with OTU is to bring back rock'n'roll to the streets and clubs where it belongs.
OTU facebook.
https://web.facebook.com/overtheunderpl/
Over the Under – Madness
https://www.youtube.com/watch?v=ON10607LdrE
Over the under – Cold
https://www.youtube.com/watch?v=e_EaYu7Vonk
Details
Datum:

8. Dezember 2017

Zeit:

20:00

Veranstaltungskategorien:

Veranstaltung-Tags:

Webseite:
Veranstaltungsort
Maze

Mehringdamm 61




Berlin

,

Berlin

10961

Deutschland

+ Google Karte

Webseite:
Veranstalter
Over the Under

Webseite:
Veranstaltung Navigation