Diese Veranstaltung hat bereits stattgefunden.
renato gama feat. the show olhos negros trio
Veranstaltung Navigation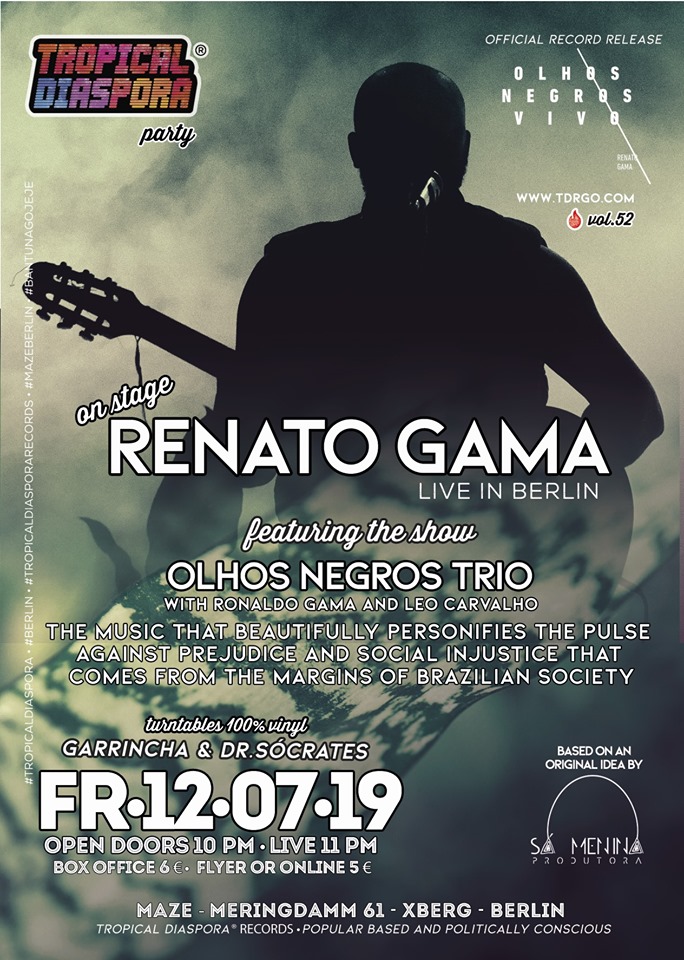 ★ Tropical Diaspora® Party Vol.52 ★
Sá Menina Produtora & Tropical Diaspora® presents
★ Renato Gama in OLHOS NEGROS TRIO for the first time in Europe
Featuring: Renato Gama (Voice and Gittar) , Ronald Gama (Bass) and Leo Carvalho (Percursion)
★ List with Guest Artists for this special night coming soon…
Renato Gama is an extraordinary and gifted musician. Based in Vila Nhocuné, a popular neighbourhood in the east of São Paulo's periphery, "zona leste", Renato Gama beautifully personifies the pulse against prejudice and social injustice that comes from the margins of Brazilian society and what social elites have chosen to ignore. A voice to be heard, for sure!
★Short Line-UP
★ WHAT: live & Strictly Vinyl Tropical Party
★ WHEN: 22:00 OPEN DOORS 23:00 LIVE and Open End.
★ LIVE Concert: Renato Gama with the show Olhos Negros Trio
★ Strictly Vinyl: Djs Garrincha & Dr.Sócrates