Diese Veranstaltung hat bereits stattgefunden.
sonic bridges
29. September 2018 @ 20:00
Veranstaltung Navigation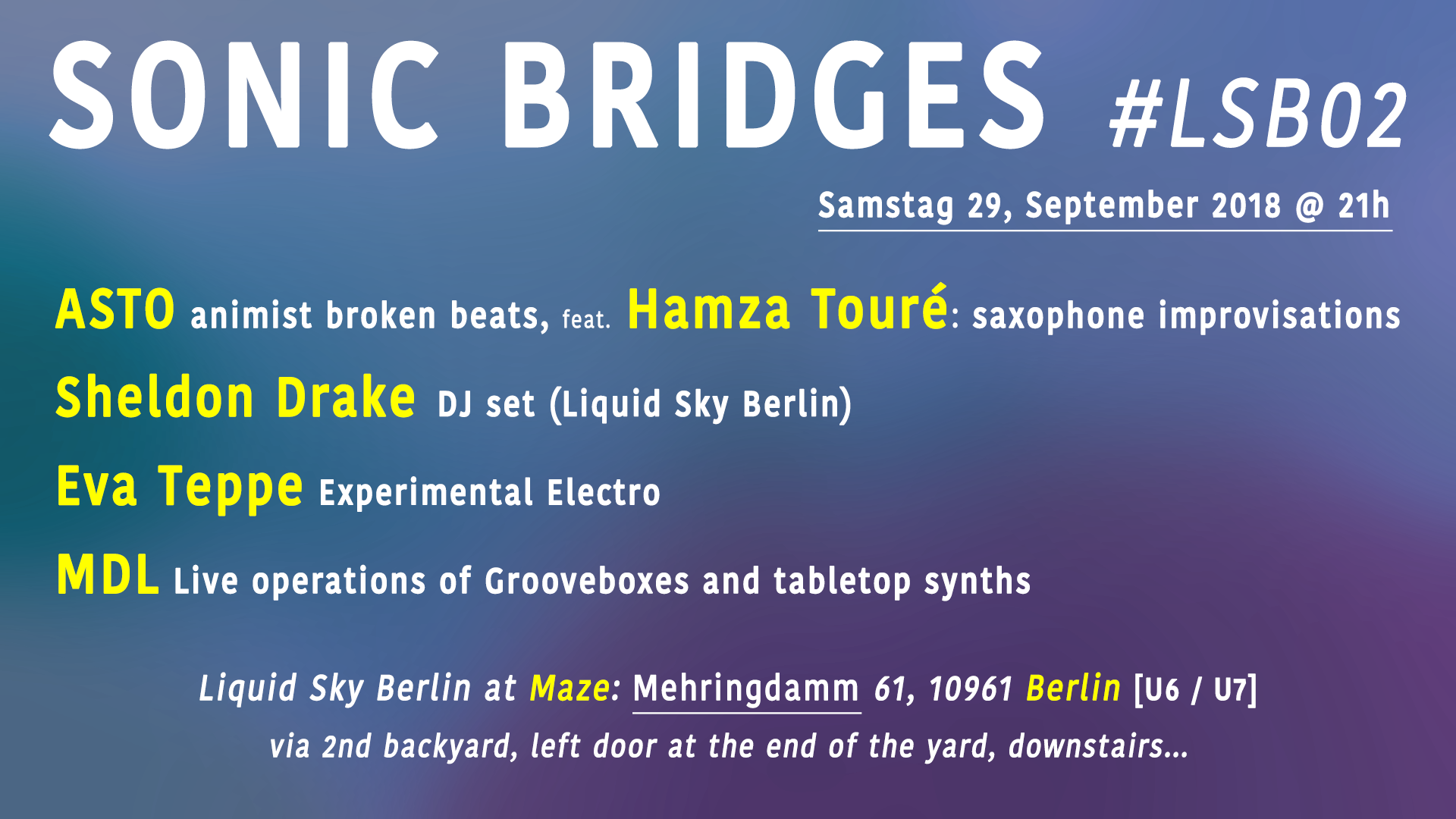 AKON
https://soundcloud.com/brsound
Focus on applying Eurorack modular synths, creating sound spaces, integrating field records and monotonous rhythms with minimal and subtle variations and noise. Improvications with minimalist schemes, based on a listen-react-experiment scheme and live composing.
Start, Play, Finish – Combining and implementing field records to the modular system, creating a new environment, which tries to break the public's expectations, taking it to unknown spaces finally- and everything starts with probably recognized pieces, little by little changing, adding and mixing until I find the space, for me, more pleasant.
*********************************************************
Asto Music (feat. Hamza Touré, saxophone improvisations)
https://astomusic.bandcamp.com
https://astolive.com/
Asto is the meeting of live performed IDM electronic music and occult animist rhythms from the Afro-Cuban community of La Habana.
He clearly transmits the up-beat energy of the Afro-Cuban atypical grooves and the sonic possibilities of sound-synthesis. It shows the complexity of the animist rhythms interpreted in the context of an electronic music performance and the potential of the encounter of two musical worlds, one unknown and secretly shown to the initiated, the other ubiquitous and in constant mutation.
It is the result of 7 years in Cuba dedicated to the learning of mystic Afro-Cuban rhythms, made possible by the meeting of Asto with the family called "Los Chinitos", who trained him to perform the sacred Bata drums in animist Yoruba ceremonies, where the oracles impart their message, the black and white magic are practiced and the initiated are possessed by dancing gods.
*********************************************************
Sheldon Drake digital Dj & live remix set
https://hearthis.at/sheldondrake/
—–     —–
chill out music / ambient / ambient noise / couches / visual noise / videoinstallations / musique concrete / 2nd backyard / krautrock and neo krautrock / psychedelic lounge music / salzstangen / bar / electronic dub / experimental soundscapes / drone music / dubtechno / experimental hiphop / kicker / new school triphop / treptowbass / live / techno / mindbending freestyle music / antworten / videoart / glitch / downstairs / dark abstract / surreal / experimental / dada art installations / paintings / photography / sculptures / cocktails / and … whatever your mind explores …
—– —–
free entry
1st drink +2€ artist fee
—– —–