Diese Veranstaltung hat bereits stattgefunden.
strings attache/ed: rope & noise & improvisation performance night
21. November 2018 @ 20:30
Veranstaltung Navigation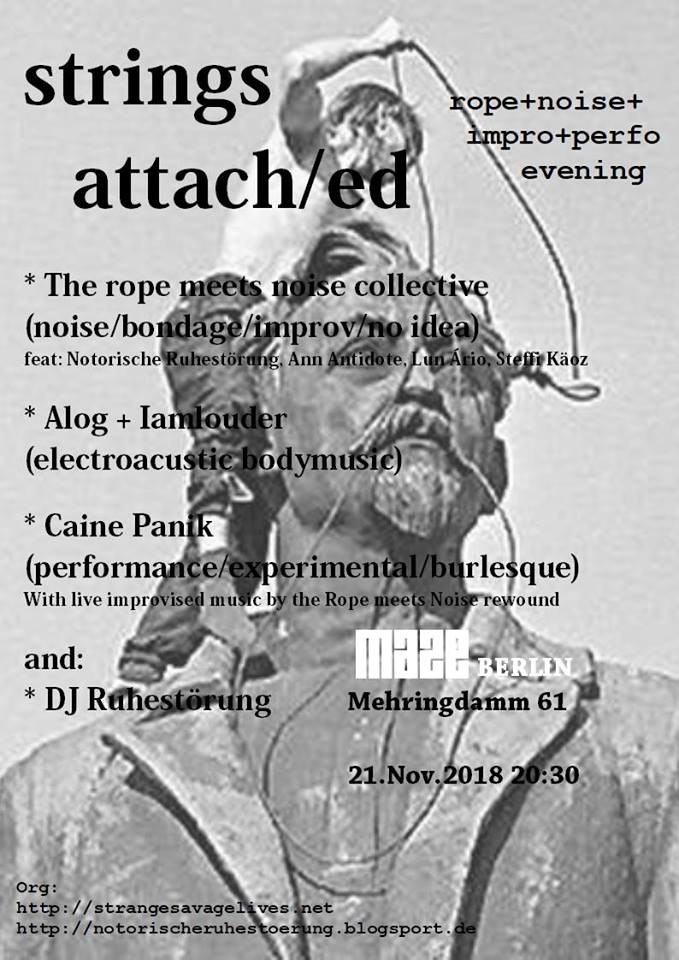 strings attach/ed
rope+noise+improvisation
performance night
Different people with common sounds + methods meet:
rope, noise, minimalism, improvisation, ambient, experimental, avant-garde and more such niceties.
more or less irregular event in Berlin – this is the 4th edition!
by http://strangesavagelives.net and http://notorischeruhestoerung.blogsport.de/
* The ROPE MEETS NOISE ensemble:
Notorische Ruhestoerung , Ann Antidote, Lun Ário, Steffi Käoz
(rope // noise // ambient // experimental)
http://strangesxe.cluster023.hosting.ovh.net/occam.php?tb=catalogue&highlander=123
* ALOG & IAMLOUDER (electroacoustic body music)
* CAINE PANIK (Performance/burlesque/experimental)
* DJ Ruhestörung
—————————————————————————-
ANN ANTIDOTE from the Strange Life of the Savages is an autodidact DIY artist and DIY apostle, active in the fields of rope art, video, installation, sound and performance. She is known for her work, as performance and educator with kinbaku, but she has recently started to experiment with noise, DIY instruments and other sound expressions..
http://strangesavagelives.net/ and https://vimeo.com/antidoteann
NOTORISCHE RUHESTÖRUNG is an artist mainly focusing on sound and music, but also active in other fields such as video, performance, zines and painting. Having played in bands mainly as a drummer for many years, Notorische Ruhestoerung recently launched a solo show with guitar, keyboards and DIY noisy
electronics and started improvising to kinbaku performances on piano and noise instruments.
As a long-term member of the Berlin DIY, collective- & self-organized and feminist scene, Notorische
Ruhestoerung is always interested in social struggles and real life experiences on how to be a more
genuine and upright person.. http://notorischeruhestoerung.blogsport.de/sound and
https://vimeo.com/user54473168
LUN ÁRIO is a queer sex-positive DIY performer artist based in Berlin. Has been doing burlesque performance, making movies and teaching shibari since s/he moved to Berlin in 2009.
Lun is committed to a DIY, low-budget aesthetic, and experiments with noise and other sonic devices.
http://strangesavagelives.net/ and https://soundcloud.com/user-114536315
ALOG + IAMLOUDER (coming soon)
CAINE PANIK is a Berlin-based drag thing who moves between genders and genres at will. Combining drag, kink and burlesque in variable amounts he particularly loves to play with fears – yours or his own – and transform them in the process https://www.instagram.com/cainepanik/
STEFFI KÄOZ is a rope performer with a permanent and dedicated atention span for music and collaboration both as method and objective.
ROPE MEETS NOISE ENSEMBLE: In this project we combine our common taste for kinbaku and noise music, and we use instruments as basic as possible to compose and improvise (both music and rope) in real time. The instruments we use include circuit bending, DIY oscilators, or salvaged tape recorders, but cyborg sky is the limit, because we will not exclude a device just because someone declared it as not functional or not musical. http://strangesxe.cluster023.hosting.ovh.net/occam.php?tb=catalogue&highlander=123
Acessibility: Everything is in the cellar, with a staircase in between. Not really wheelchair friendly. In whatever case, please contact us if information /support needed.