Diese Veranstaltung hat bereits stattgefunden.
synthstrom audible
Veranstaltung Navigation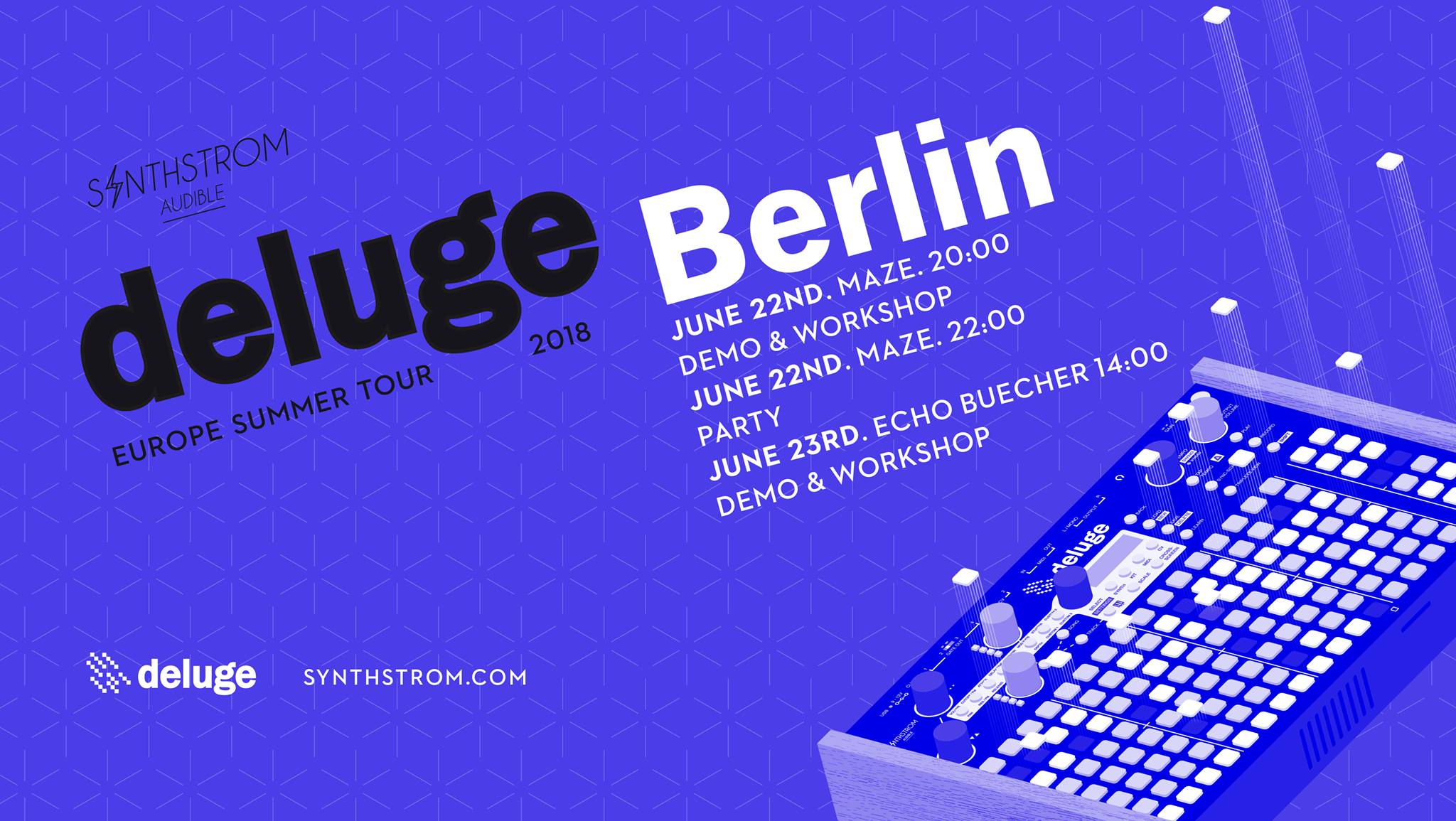 Deluge demo and workshop from Ian Jorgensen
live (all performances on the Deluge):
Omsk Information (liquid sky berlin / lucidflow / nona records)
CYnapse (liquid sky berlin)
nomilian
Jesus HTML Christ (Blink / A Low Hum / Synthstrom Audible)
datajockey sets by
bendeg (liquid sky berlin)
dr walker (liquid sky berlin / maze / force inc / Deluge artists
*****
June 23rd:
*****
"Does it do this?…yes it does, and this, and this, and this as well…it's mental!"
Nick Batt –
Sonicstate.com
Deluge by Synthstrom Audible is a truly portable, all-in-one, music composition and live performance tool. With a powerful sequencer, built-in subtractive and FM synth engines and feature-rich sampler and deep connectivity, it's everything you need."The Synthstrom Deluge is a goddamn miracle. I cannot believe how much thought has been put into this device."
Jeremy Blake – Red Means RecordingDesigned and lovingly manufactured in New Zealand, Deluge has been embraced by critically acclaimed artists like Lindstrom through to being the first musical tool for beginning musicians, finding a home with a multitude of artists across the musical spectrum.
"I've seen a lot of new musical instruments and interfaces over the past few years. This one is something really incredibly special."
Andrew Dubber, Director – Music Tech Fest.
To celebrate the release of the 2.0 software upgrade for the Deluge, Synthstrom Audible are conducting a series of workshops, presentations, demos and live performances through Europe and Australia this June and July.
For more information, visit www.synthstrom.com