Diese Veranstaltung hat bereits stattgefunden.
—Syrphe electronic night 02—
Veranstaltung Navigation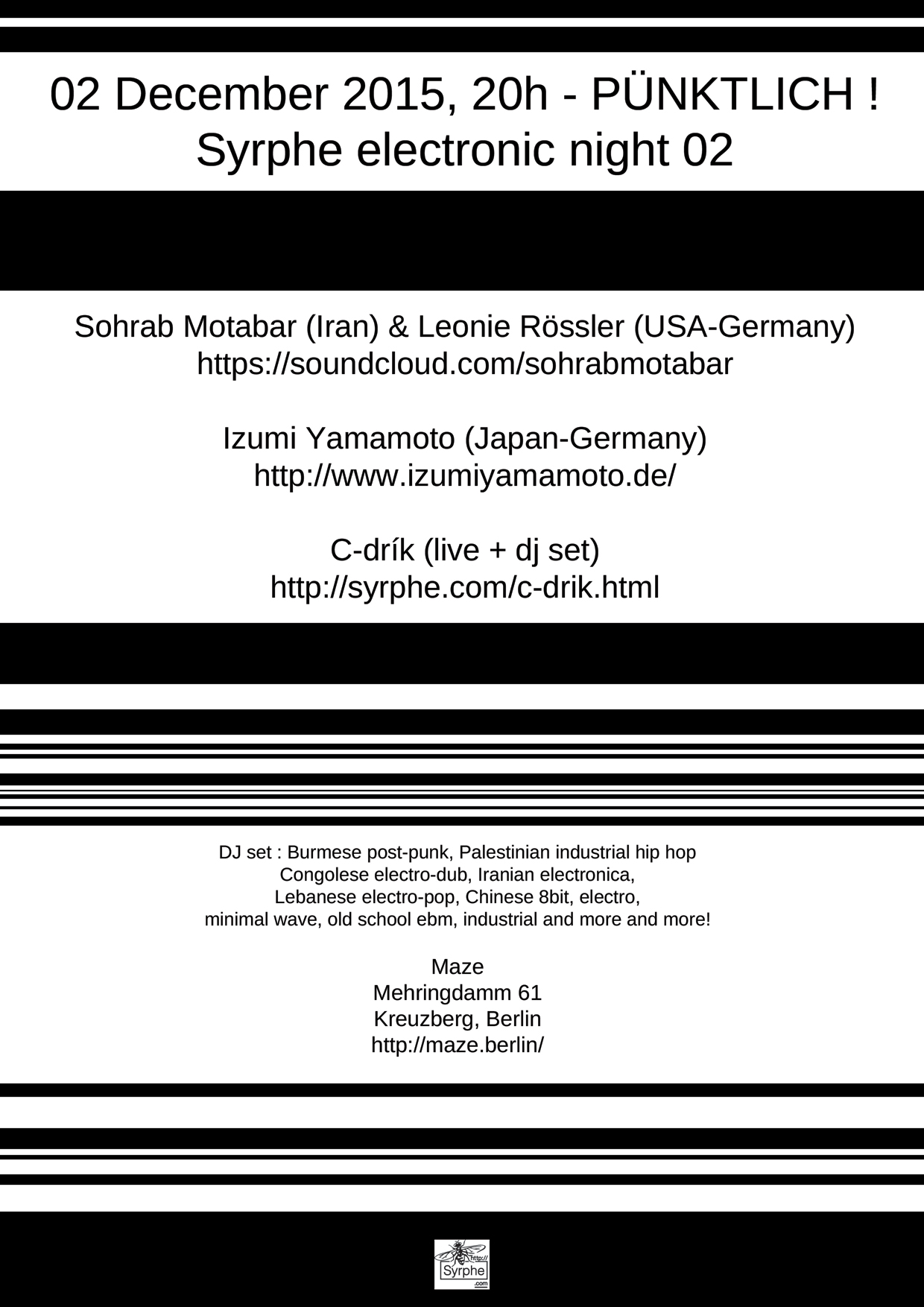 Every first Wednesday of the month, Syrphe will present an event dedicated to alternative electronic music, electro-acoustic, sound art, audio-visual art, electronica, etc. We will try to favour musicians from Asia, Africa, Latin America, but not exclusively.
There will be some vegan food and you may expect some other surprises.
Second night (please come on time, no delay Berlin style…) with more artists to be confirmed:
Lives
– Sohrab Motabar (Iran)+ Leonie Rössler (US/Germany)
http://leonieroessler.com/index.htm
– Izumi Yamamoto (Japan/Germany)
http://www.izumiyamamoto.de/
https://youtu.be/-ND09JnZwJM
– C-drík aka Kirdec (Belgium/Germany), C-drík runs Syrphe, a platform mostly dedicated to electronic and experimental music from Asia and Africa. He´s or was a member of various projects such as Axiome, Elekore, Ambre, Moonsanto, Tetra Plok, etc.
http://syrphe.com/c-drik.html
DJ
– C-drík will make you dance on Burmese post-punk, Palestinian industrial hip hop, Congolese electro-dub, Iranian electronica, Lebanese electro-pop, Chinese 8bit, electro, minimal wave, old school ebm, industrial and more and more!