Diese Veranstaltung hat bereits stattgefunden.
syrphe – electronic night
Veranstaltung Navigation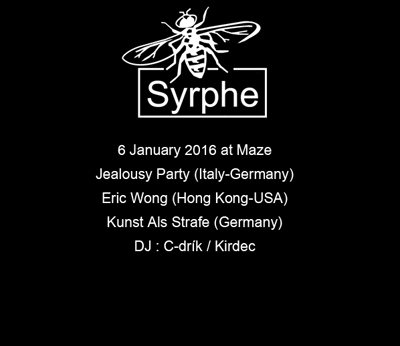 Every first Wednesday of the month, Syrphe will present an event dedicated to alternative electronic music, electro-acoustic, sound art, audio-visual art, electronica, etc. They will try to favour musicians from Asia, Africa, Latin America, but not exclusively.
There will be some vegan food and you may expect some other surprises.

Lives :
JEALOUSY PARTY (Italy-Germany)
Eric Wong (Hong Kong-USA)
Kunst Als Strafe (Germany)
DJ
C-drík / Kirdec & other projects.
Jealousy Party
Originally blossomed in Florence, Italy, since 1990 the Burp Enterprise international collective has been responsible for underground conspiracies, facilitation of happenings, coordination of self-managed productions, rags publishing, meetings, workshops, concerts, musical, graphic and multimedia productions mainly through his own label / publishing house BURP Publications.
http://www.burpenterprise.com/burp/
Eric Wong
Eric Wong – Born 1981 in Minneapolis, MN, grew up in Hong Kong, a guitarist and computer musician. Although he has taken some lessons in younger age, he is pretty much an autodidact. After spending years going between rock and electronic music, his current focus are free improvisation and sound manipulation.
http://ericszehonwong.tumblr.com/
Currently based in Berlin, and having been performed in Germany, Austria, Hong Kong, Macau, USA, China, Poland, etc. Besides solo works, other projects he is also involved include rock duo Meta Fog with Sascia Pellegrini patchworking pop culture montage, musical collective Stoic Strangers with Wilson Tsang plus other Hong Kong based musicians, and improvisational guitar/piano duo Se Noh Te with Eunice Martins.
Kunst Als Strafe
Formed in 1998, Kunst als Strafe's analysis of pretextual discourse is not narrative, as postcapitalist deconstruction suggests, but subnarrative. Thus, if neocapitalist Marxism holds, the works of Kunst als Strafe are empowering.
Pretextual discourse implies that class has significance, but only if consciousness is interchangeable with culture; if that is not the case, Kunst als Strafe's model of postcapitalist deconstruction is one of "posttextual dialectic theory", and therefore fundamentally dead. In a sense, Kunst als Strafe use the term "pretextual discourse" to denote the difference between society and sexual identity.
http://www.kunstalsstrafe.net/
Starts on time !!