Diese Veranstaltung hat bereits stattgefunden.
TD® VOL.49 KdK18 Official Party
Veranstaltung Navigation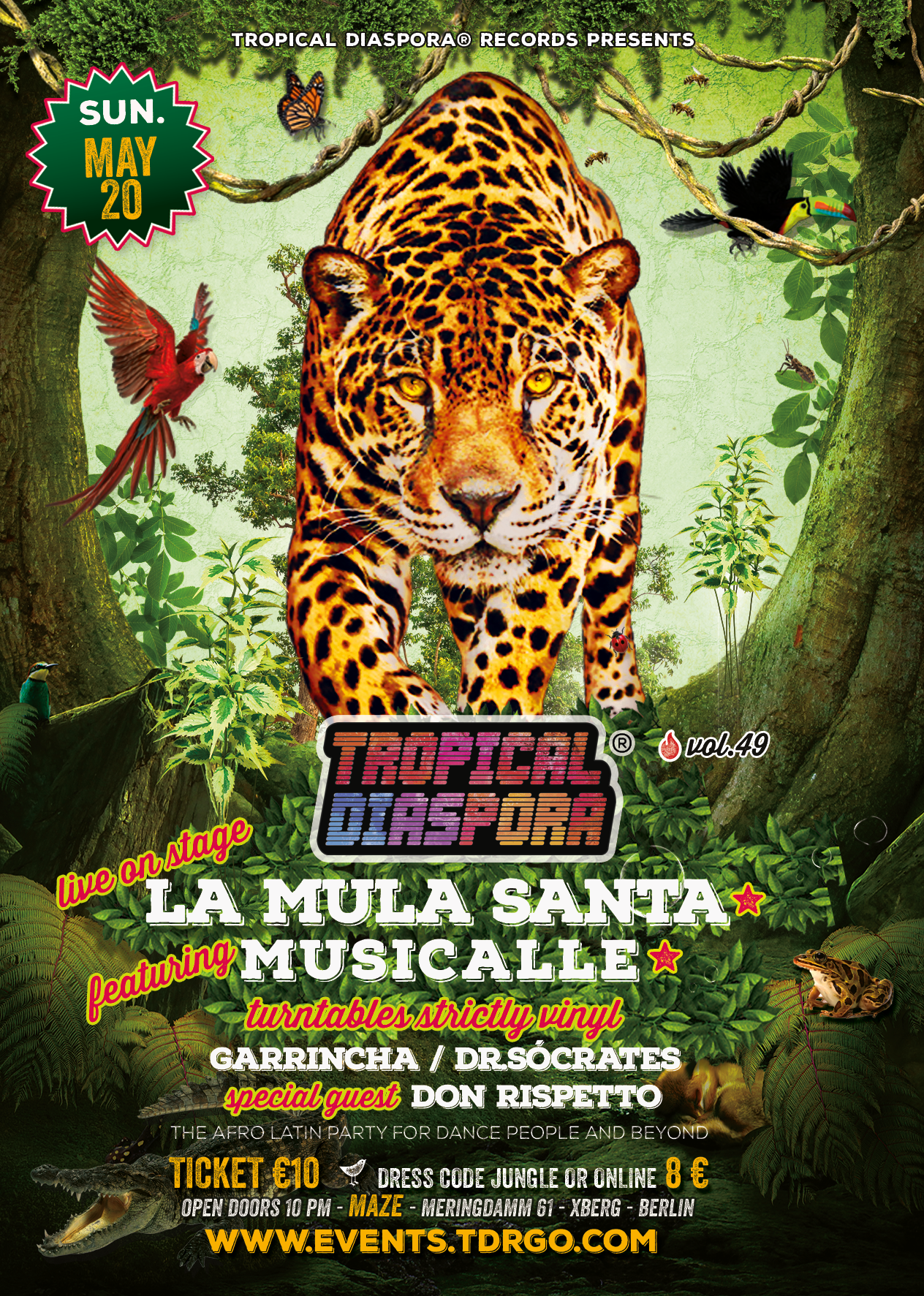 Hello Tropical Diaspora fans. We're still here yes, diaspora we are. So are you, we hope.
After our winter pause the Tropical Diaspora Party is proud to announce the come back to the "all night long groove tropical party". We begin the season this year with a great after party for the street parade Karneval der Kulturen 2018.
We are waiting for everybody that have enough energy and illuminated vibes to dance with the best Afro Latin Diaspora music live on the stage.
After show party with the best selection on vintage and new vinyl you ever listen to, featuring a special guest Don Rispetto
Furthermore, you will come together with the artists from the street parade groups that will be there with us and enjoy the party in one of the best venues in Berlin – Kreuzberg, the MAZE an amazing basement in the original taste of the Berliner 90ties.
★Short Line-UP
★ WHAT: live & Strictly Vinyl Tropical Party with tow floors
★ WHEN: 22:00 OPEN DOORS 23:30 LIVE and Open End.
★ LIVE Bands: coming soon
★ Strictly Vinyl: Djs Garrincha & Dr.Sócrates
★ Special Guests: Dj Don Rispeto
★Full Line-UP
coming soon
♫ Band 1
♫ Band 2
★Strictly Vinyl Floor
♫ Tropical Diaspora Djs Garrincha & Dr.Sócrates (Brazil / Spain)
★Second Floor
♫ Dj Don Rispetto (Italy)
★Where
@ MAZE – Mehringdamm 61
★ 22:00 hs OPEN DOORS
★ 23:00 hs Bands Live
★ After Show Party OPEN END
★★★
After Party all Night Long strictly vinyl with follow Djs
★ Tropical Diaspora Records with Garrincha & Sócrates ★
Dj GARrinchA along with Dr.Sócrates, describes their party musical ethos as "The platform for live music and performance dedicated to the fusion of different styles, a culture way that is especially cultivated in Brazil since the days of Tropicalia." They are right: The melting pot of samba, cumbia, dancehall, afro beat, funk, Brazilian and latin sounds, Soul and everything connected to the afro diaspora matter in the music results in a bump 'n' grind groove that the people in the dance floor can't get enough of. Fresh from gigs in Brazil, USA and Europe, they are kicking off a series of parties in Berlin, featuring many Bands and DJ´s from Europe and worldwide.
★ Don Rispetto (Napoli / Berlin) ★
As a Radiomoderator he started 1993 at Kiss FM. In the end of the 90ties, he switched to radiomultikulti, where he moderated a special Saturday radio show "Radio Kanaka International". This show was primarily intended as a forum for new talents, but also for established artists, to give them the opportunity to present themselves in their own way ("Radio for da people"). The whole spectrum of multicultural off-in culture gathered at his studio. The news from the international music and art scene were then brought with the "Berlingo" among the people. And as a Master of Ceremony it was and still is my job to design programs, organize events and jams of course, to bring it all over with a relaxed flavor.
https://soundcloud.com/don-rispetto/radio-kanaka-international
#tropicaldiaspora #garrincha #berlin #kreuzberg #fiesta #party #lamulasanta #coco #sonoramachicago