Diese Veranstaltung hat bereits stattgefunden.
trigonometry guitar tour
Veranstaltung Navigation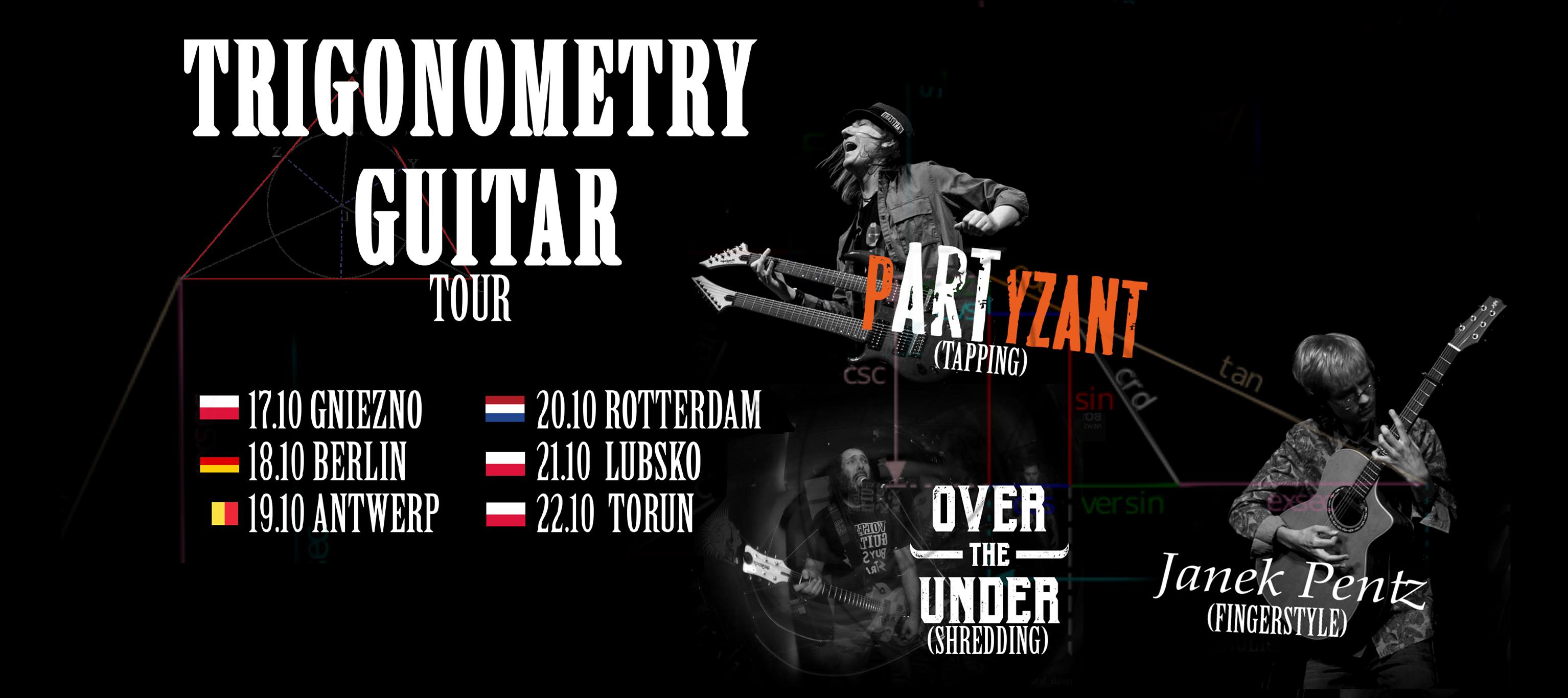 TRIGONOMETRY GUITAR TOUR
Three different performers and three separate guitar styles on one stage.
pARTyzant – Two Handed Guitar Tapping
https://www.youtube.com/user/partyzgit
Over The Under – Shredding
https://www.youtube.com/channel/UCbce3_ZF7UAzhYMJNtncjZQ
Janek Pentz – Fingerstyle
https://www.youtube.com/channel/UCc_NUNVEjQB6tXdtiWERcKA
Door: 19:00
Start on stage: 19:30
pARTyzant is guitar player, who started his career due to the legendary Polish rock band – DZEM. Since 1991, for over three years, he was supporting their concerts with his own solo performances and playing together with the band on harmonica, accordion, percussion or acoustic guitar. As a multiinstrumentalist, pARTyzanT can be found on four Dżem studio records from that period. From the very beginning of his music adventure, he is using an unique and extraordinary technique, named by "two-hand tapping", which lies in accurate hitting of proper notes by one's fingers. By the use of that technique, it is possible to create a greater amount of melodies at the same time as well as, for instance, play on more than one guitar.
pARTyzant devoirs a wider publicity to his own YouTube channel where everyday since 2007 about few thousands visitors are watching his own videos http://www.youtube.com/user/partyzgit . In 2008, thanks to a polish luthier company – MENSINGER, by creating a special double-neck instrument, he achieved greater possibilities of expressing himself on the guitar. In the same Year, he also had a chance to perform with a worldwide known virtuoso – Tommy Emmanuel on MusikMesse in Frankfurt. In a wide repertoire of this creative musician, we can find famous rock, jazz, classical or movie tracks as well as his own compositions.
————————————————————————-
Over the Under – polish band playing music in between styles like southern/ groove metal, stoner rock and blues with lots of improvising elements in live playing. Established in 2013 with first "self titled" LP and 2 big music tours behind:
Cowboys from Space Tour 2016/2017 : 56 concerts mostly in poland but also in Germany and Czech Republic
100% Tour – 100 gigs in 100 days 2017 World Record in playing concerts day by day ( previous record waswas 65) This tour was absolutely self made by the band. Tour embraced counties like Poland, Czech Republic, France, England, Belgium, Holland and Germany. The tour was not only about setting a record. It was mostly about proving that DIY band can arrange and play biggest continous tour in history and spread their music anywhere they can. This tour is just a begining of bands crazy ideas.
——————————————————————-
Janek Pentz – the Polish composer and acoustic guitarist,
dealing with fingerstyle, rock and classical music. Winner of the prestigious competitions.
His music consists of rapid and dynamic compositions, as well as quiet and peaceful, being the effect of philosophical reflections.
He was playing the opening acts for such a great artists, as Tommy Emmanuel, Andy McKee, Luca Stricagnoli, Igor Presnyakov, Adam Palma, pARTyzant, Marek Napiórkowski, Mirosław Czyżykiewicz, Stefano Barone.
Besides the solo acoustic activity, he's participating in different projects, recently with Igor Presnyakov, Mery Spolsky, Małgorzata Kozłowska, ThE BlacK HorsemeN, Scream Maker.
Informations about Janek's concerts have been published inter alia by Top Guitar (interview with Janek at the 09/2016 edition) and Gitarzysta (Guitarist) (interview at the 03/2018 edition) magazines – well-known Polish music press with high circulation – and his music by the prestigious american label CandyRat Records.
He's composer of the soundtracks for Darek Załuski's documents "Lago de los Polacos", "Korona Gór Polski – Boso 2017" – broadcasted by Planète+ channel, and "Zimowa wyprawa K2 1987 1988" – about first winter expedition in the history to reach the K2 peak.
2017, he has released his debut EP called "Heroic Dreams…".