Diese Veranstaltung hat bereits stattgefunden.
Tropical Diaspora® VOL.47 KdK17 Edition & Records Release Party
Veranstaltung Navigation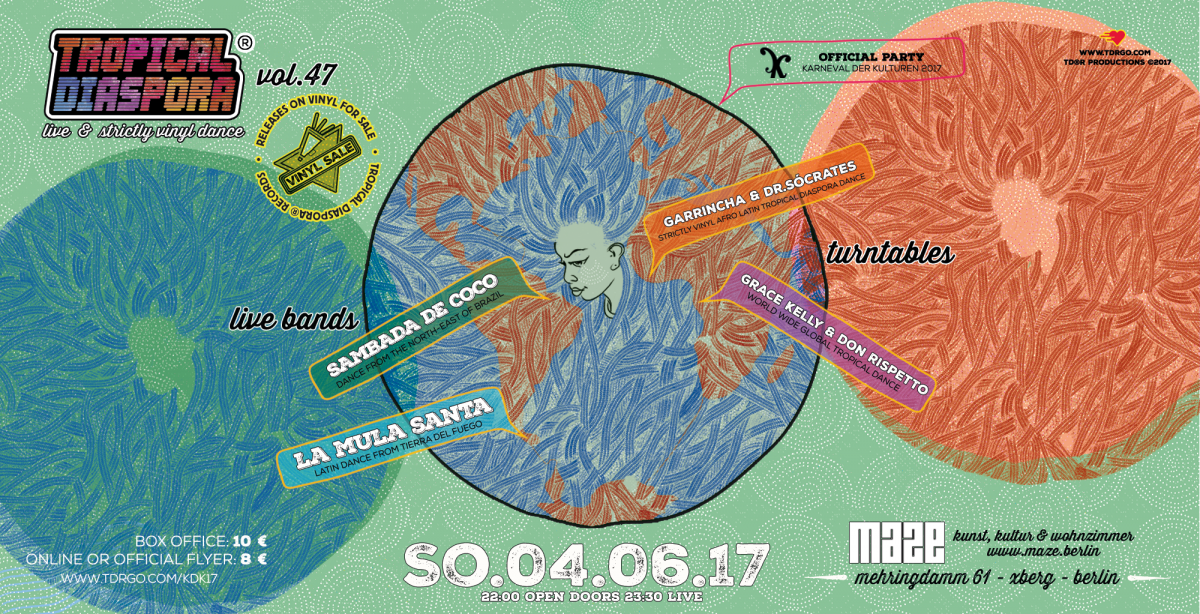 Hello Tropical Diaspora fans. We're still here yes, diaspora we are. So are you, we hope.
After our winter pause the Tropical Diaspora Party is proud to announce the come back to the "all night long groove tropical party". We begin the season this year with a great after party for the street parade Karneval der Kulturen 2017.
We are waiting for everybody that have enough energy and illuminated vibes to dance with the best Afro Latin Diaspora music live on the stage along La Mula Santa and Sambada de Coco from Brazil. After show party with the best selection on vintage and new vinyl you ever listen to, featuring two DJ Collectives from independent record labels also Tropical Diaspora Berlin and Sonorama Chicago.
At last but not least! Djane Grace Kelly and Dj Don Rispeto complementing the diaspora night with musical diversity from tropical bass to reggae.
Furthermore, you will come together with the artists from the street parade groups that will be there with us and enjoy the party in one of the best venues in Berlin – Kreuzberg, the MAZE an amazing basement in the original taste of the Berliner 90ties.
★Short Line-UP
★ WHAT: live & Strictly Vinyl Tropical Party with two floors
★ WHEN: 22:00 OPEN DOORS 23:30 LIVE and Open End.
★ LIVE Bands: La Mula Santa & Sambada de Coco
★ Strictly Vinyl: Tropical Diaspora Berlin & Sonorama Records Chicago
★ Special Guests: Djane Grace Kelly & Dj Don Rispeto
★Full Line-UP
STAGE
♫ La Mula Santa (cumbia)
♫ Sambada de Coco (coco)
Strictly Vinyl Floor
♫ Tropical Diaspora Djs Garrincha & Dr.Sócrates (Brazil / Spain)
♫ Sonorama Chicago Djs Charly Garcia, Eddy Baca & Marlowe Baca (USA / Mexico)
Guest Djs Floor
♫ Dj Grace Kelly (Brazil)
♫ Dj Don Rispeto (Italy)
★ 22:00 hs OPEN DOORS
★ 23:00 hs Bands Live
★ After Show Party OPEN END
★Live on The Stage
★★★★★★★★★★★★★★★★★★★★★
SAMBADA DE COCO ★Brazilian percussion★
Samba de Coco is a typical rhythm and dance of the coastal regions in the north-east of Brazil, with its roots and origins in the federal states of Pernambuco, Paraíba and Alagoas and has been further developed by Brazilian fishermen and field workers. The Sambada de Coco is worn by Brazilian percussionists who play many different types of coco. This is a collaborative activity for which Coco is sung and danced.
Coco is an African-influenced musical rhythm that originated in Northern Brazil. "Coco" may also refer to the style of dance performed to the music, a kind of stomping. The name "Coco" (Portuguese for "coconut") is a common Northeastern Brazilian slang for head, referring to the fact that song lyrics are often improvised. Coco is often performed with a repetitive musical beat and call and response singing reminiscent of Capoeira music. The music is commonly performed at traditional parties in the Northeast, such as weekend street parties and Carnival. Coco is also alternatively known as "embolada" (another slang word, meaning "entangling", referring to the fast, slurred, machine-gun style of singing).
The characteristic sound of coco arises from four instruments commonly used in its performance: the ganzá, surdo, pandeiro, and triangle. Performers also often wear wooden clogs, the stomping of which adds a fifth percussive element.
★★★★★★★★★★★★★★★★★★★★★
LA MULA SANTA ★ cumbia salsa chicha pachanga and latin rhythms★
The Chilean band La Mula Santa mix cumbia, rock, and different Latin-American rhythms in a spicy trunk. The Band lead Mauro Valenzuela, born in Chile and based in Berlin since many years meet the other musicians in a Chilean Bar in a colorful mixture of nationalities i.e. Chile, Armenia, Germany, Malta, Australia, Peru, Mexico. The Bar in F´hain district in Berlin called "El Caiman" was the place where they meed each other and since many years they are together doing concerts in Germany and Europe. Freedom in all aspects and for sure in the music is the registered character of La Mula Santa the sound and the rhythm and the incredible power to the stage, let no man without dancing. If you like passionate and Latin American music, you will love La Mula Santa.
From Tierra del Fuego at the extreme southern of South America until the United States, from the Andes to the Atlantic coast, the Colombian Cumbia is popular, while in Europe it is still an amazingly well kept secret. Located on the Caribbean coast of Colombia, this music has been not only in Latin America but also international success. The Band identity comes not only from the infectious beat of the Cumbia, but also of different Latin-American rhythms like Merengue, Salsa, Bomba, Guajira, Reggaeton and Latin Rock.
https://soundcloud.com/dj-garrincha/la-mula-santa-featured
★★★★★★★★★★★★★★★★★★★★★
After Party all Night Long strictly vinyl with follow Djs
★ Tropical Diaspora Records with Garrincha & Sócrates ★
Dj GARrinchA along with Dr.Sócrates, describes their party musical ethos as "The platform for live music and performance dedicated to the fusion of different styles, a culture way that is especially cultivated in Brazil since the days of Tropicalia." They are right: The melting pot of samba, cumbia, dancehall, afro beat, funk, Brazilian and latin sounds, Soul and everything connected to the afro diaspora matter in the music results in a bump 'n' grind groove that the people in the dance floor can't get enough of. Fresh from gigs in Brazil, USA and Europe, they are kicking off a series of parties in Berlin, featuring many Bands and DJ´s from Europe and worldwide.
https://soundcloud.com/tdrgo/freshroastedchi_feb17
★ Sonorama Chicago Vintage Latin Sounds with Senor Eddy & Charly ★
Sonorama is a Chicago-based Dj collective fronted by Charly Garcia, Eddy Baca & Marlowe Baca and created with the objective of promoting world roots music through our obsessive love of vinyl music culture. More than just djs, we collect, scavenge, and are ever in search of new sonic and rhythmic delights both new, old, or sometimes forgotten, but with the purpose to share our discoveries with the rest of the internet community. Through podcasts and other various media we try and criss-cross geographic borders and genres with ease, and together with our different musical tastes and backgrounds; set out to showcase an eclectic program of rare grooves, musical curios, and Afro influenced dance music, along with any other surprises we dig up along the way.
https://soundcloud.com/tdrgo/sonorama-chicago-lumpenradio
★ Grace Kelly (Salvador / Berlin) ★
DJane Grace Kelly Mix combines mainly Afro-Brazilian music with Latin American sounds like baile funk, that her mix with electro and house. But as any cross-cultural DJ is also influenced by other rhythms and with her trained ear she catch Oriental Breakbeats and Eastern rhythms that make their way through her mix.
https://soundcloud.com/djgracekelly/mixture-demo-vol1
★ Don Rispetto (Napoli / Berlin) ★
Als Radiomoderator habe ich 1993 bei Kiss FM angefangen. Mitte '97 wechselte ich dann zu radiomultikulti, wo ich eine eigene Samstags-DJ-Special Radioshow "Radio Kanaka International" moderierte. Diese Show war in erster Linie als Forum für neue Talente, aber auch für etablierte Künstler gedacht, um ihnen die Möglichkeit zu geben, sich auf eigene Weise zu präsentieren ("Radio for da people"). Das ganze Spektrum der multikulturellen Off-In-Kultur versammelte sich bei mir im Studio. Die News aus der internationalen Musik- und Kunstszene wurden dann mit dem "Berlingo" unter die Leute gebracht. Und als Master of Ceremony war und ist es immernoch meine Aufgabe, Programme zu gestalten, Veranstaltungen und Jams zu organisieren und natürlich alles mit einem lockeren Flavour rüberzubringen.
https://soundcloud.com/don-rispetto/radio-kanaka-international