Diese Veranstaltung hat bereits stattgefunden.
umami-exp#20
11. November 2015 @ 20:00
Veranstaltung Navigation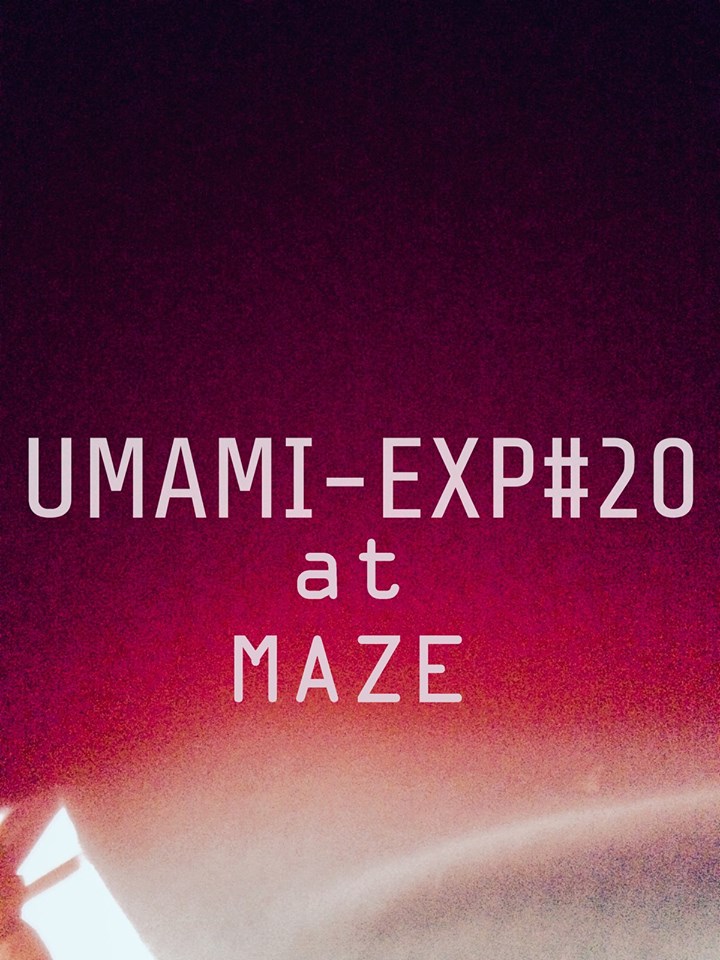 Our first Umami – Event.
Experimentation.
Sets will also be live broadcasted, in case you are in front of your screens, take advantage !
Live Stream Channel at
http://www.ustream.tv/channel/house-concert-1
4 sets, artists from Spain, Japan, Poland, and France.
Sound, Image, Graphic, Live Drawing.
++++++++++++++++
Kasia Justka z electrocute
http://just-k.info/
https://www.youtube.com/watch?v=tqoAloaNtJM
++++++++++++++++
Umami Lab feat.Ememe
http://www.umamilab.org/
https://soundcloud.com/sniper_m_s/livepizdets
UMAMI LAB
is an experimental transversal collective, proposing live sound and graphic performances based on improvisation and exchange. The artists express themselves in line with the space and the public. Interested by the synergy of disciplines and the means of expressions, Wojtek Bajda and Mathilde Domecq explore a ground constantly renewed, calling for spontaneous cooperations with artists in the field of expression.
++++++++++++++++
Adam Goodwin solo
https://soundcloud.com/hortus-mortuus
Adam Goodwin is a Texan contrabassist, composer, and visual artist. He engages in a wide spectrum of artistic activity that involves frequent collaboration with performers, composers, sound artists, choreographers, dancers, and visual artists. Having completed music degrees in both classical and contemporary double bass performance, Goodwin moved to Berlin to delve fully into the world of experimental and improvised music. In addition to classical, contemporary and experimental music, he is active within the Turkish and Arabic music scene in Berlin.
++++++++++++++++
Kazehito Seki
https://www.youtube.com/watch?v=Ci2bDoBYgLM
is a Voiz (Non-FX Voice Noise) performer who seeks for the sharpest
sound by running about between Noise (Abstract / Nerves) and Hardcore (Concrete
/ Muscle) with no electronic FX but just a couple of amplified microphones.
Kazehito belongs to a particular scene in Japan, influenced by hardcore music,
subculture, and what a western would see as Tokyo's sonic ghetto culture.
Kazehito's approach to the voice as an instrument demonstrates his flexibility,
oscillating between subtle sinewaves and brutal white noise in a microsecond,
like so:
https://youtu.be/j0a6oKaMZq4 /
Youtube
For more than a decade, Kazehito has
been blasting his voice in a hardcore band. After several years of fusing his
voice with electronic noises, in 2012 started his solo activity without
electronics, besides joining in a Voiz group called "Tokyo Voiz Choir"
organaized by William Tokuhisa. At the same time, toured in Korea with his two
bands: "Omawarisan" and "Ameri B.C". Nowadays, besides his solo and many bands,
he collaborates with various kinds of artists including musicians and dancers.
He also teaches training and keeping the voice safe, because after all — the
voice is and was (always) the primordial instrument.
FB https://www.facebook.com/kazehito
++++++++++++++++
Liu/Guillem
https://soundcloud.com/ching-liu/sets/part-ii
Martí Guillem Spain
https://youtu.be/u4DL_HYHNto https://youtu.be/xUzT2bOkYjk
Heterodox artist, who manipulates electronic devices, sounds, images, videos, actions and objects, where it often becomes unusual, unique. Improvisation, experimentation and diy (do it yourself), are combined, irreverently but reflexive, mostly in ephemeral proposals.It is characterized by a fresh and changing language that reflects on the social habits and the relationship between creativity and everyday life.
Marti seems convinced that 'the mystery' is before us, and he shows to us. His creative discoveries tell us in some way, that 'we can start from here something that will take us very far. "When he wants is an irreverent educated and / or make beautiful things and / or show you the beauty of what others call 'ugly'. The pleasure he experiences is perceived and feels almost like an act of generosity that invites you to attend. Marti is one of those artists who in their artistic approach is much of the message. He is the surprise " (text by Alvaro Pichó)
-CHING LIU :
https://soundcloud.com/ching-liu/sets/part-ii
(aka Wojtek Bajda) Poland: Moog Taurus / bass clarinet,
Grown up in Przemysl/PL, attended to music school with classical direction. Graduated in Germanny and Switzerland, [MMH/HKB/HKS]. His Classical base gave him the need for searching in the area of Noise-Conterporary Music. Nowadays he lives and works in Berlin as free experimental noise musician on his Solo Tours, and Cooperates with others Musicians. Work in progress Umami Live
http://umamilive.tumblr.com/