Diese Veranstaltung hat bereits stattgefunden.
Vetternwirtschaft
Veranstaltung Navigation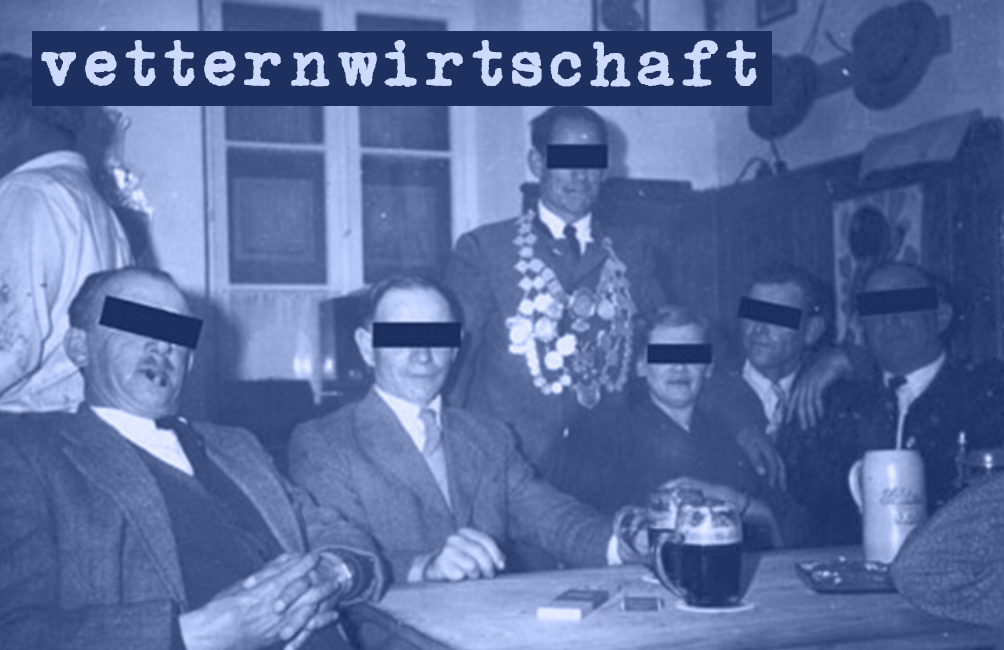 Die zwangsläufig entstehende Bewegungsexpansion Eurer Körper durch elektronisch erzeugte Schallwellenstimmulation übernehmen heute 3 ganz besondere Koryphäen … ein Trio famosius der anspruchsvollen Handmixkünste …
Donna Knispel
Music is my weapon
Music is no longer irrelevant
Music is the universal language
Music embraces all therapeutic properties
Music is the highest radiologic resolution
Music is the attack pattern, the cortical warhead
The synaptic counterattack, the rendezvous sequence
Zampi
From Minimal to fat Bullit Techno. The Range in a bright way of good Music. I feel free when I hear that the Music is free. Over 20 year`s of playing and producing electronic Music bring me and you to the next Level.
Mixes only with Vinyl!
Please Support the Producer/Label
and go to your favoriteRecordstore !

Franz Underwear
Franz is the head of Slow Motion, an Italian dance label based in Berlin. Aside from producing on his own imprint, he has releases on World Unknown, Tusk Wax and Bordello a Parigi. Franz also promotes many events around the german capital such as the monthly Wrong Era parties or the Magic Waves Festival.
Franz Underwear's sets are as diverse as the music he curates as label head of Slow Motion. Weaving smoothly between Italian Dance, Cosmic, Psychedelic and Dirty Disco, Franz quickly turns the dance floor into a vignette-tainted retro nostalgia rave fueled only by his music and liters of Cuba Libre he likes to consume whilst behind the decks.
Born in Pescara, Italy and now a resident of Berlin for nearly a decade Franz has his roots in noise and industrial rock but was led by the record collectors passion into acquiring a taste for modern and not so modern dance floor music. He frequently inspires dancers in clubs all over Europe with his eclectic blend of spacey Electro, New Wave and Acid speckled with hints of Detroit and Chicago House.
Away from the decks Franz has been busy in the studio releasing tracks on cult labels such as World Unknown, Bordello a Parigi or Discodromo's Cocktail d'Amore label. Some of his works are of course banned to vinyl on his own imprint Slow Motion.
If he is not in the studio or the club you can find him behind the bar of his Berlin restaurant Cafe Futuro where he serves Italian wines accompanied by an excellent selection of music and Italian cinematic masterpieces.